Mini Car Trash Bin
Regular price $16.99 $16.99
If you order within
Arrives by
Trash goes right where it belongs: in the trash
Ever wonder why cars don't come built with a trash can? We wonder that too sometimes. While it's unrealistic (and unsightly) to install a full-size trash bin into your front passenger leg space, there is a more appealing solution: a small trash bin that can fit conveniently into a cup holder in your vehicle. Say hello to our Mini Car Trash Bin.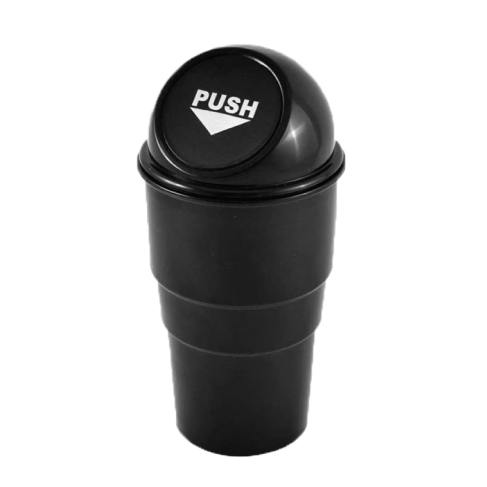 Small + sturdy
Made from non-toxic ABS plastic, our little trash bin mimics the look of large, full-sized trash cans, with a "PUSH" logo at the lid opening. The can fits right into a standard-sized cup holder for a trash bin for snack wrappers right within your reach. The can measures 7.9 x 2.7 inches (L x W).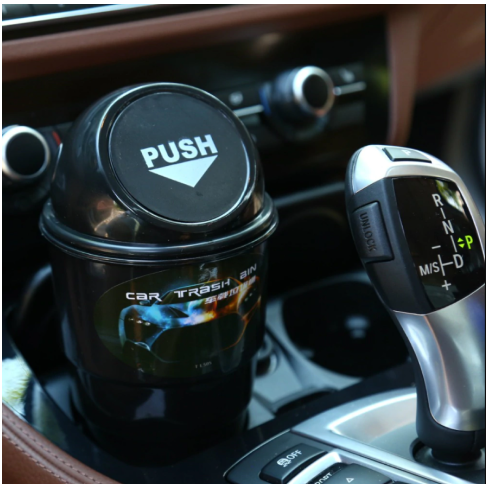 A great gift for anyone
From a teenager with his first car to a sloppy coworker whose car is always like a trash fill, everyone can benefit from the gift of being cleaner and more organized. Give the gift of keeping trash responsibly stored with this Mini Car Trash Bin.
Not just for the car
It's made for use in the car, but it doesn't mean that's the only place this handy accessory can stand up. Our little trash can also works great at your work desk, on your bedside night table, or even in the laundry room for some quick and easy disposal of small trash.
These fit great in my new car! Didn't like the PUSH on the lid, so I made up a vinyl cover-up.

Good for used masks. You just shove them in the tiny trash can. It fits perfectly in the cup holder.

The quality is fine. Everything is secured, the lid is okay. The big snag is that it does not fit the cup holders in my Citroen C2.

It works like a charm. Except the base is too small for the cup holder in my door. I put a piece of thick around the trash can. Fits absolutely perfect now.

This is an awesome trash can for your car. This fits perfectly in the door of my 2020 Honda CR-V. This is small but perfect for Kleenex, candy wrappers, straw wrappers and other small items.

Fits really well in car cup holders. Also probably a good idea to use doggie bags so you don't have to wash it out. Really handy good quality mini trash bin.

Excellent product for my SUV! Fits perfectly in the side pockets. Easy to dispense trash and works great when you have kids!

It's tiny but fits perfectly in my Hyundai HB20X

Another type of trash bin I bought was too large for the front side doors, but this fits with no problem. Yay!

These make great gifts as they can set into most cup holders. Easy to wash and sanitize, great for disposing of used tissues in a closed container.

Great if you have kids. They can just throw away their snack wrappers, tissues, etc. instead of throwing on the floor. Also, I got little biodegradable thin bags to place inside of each holder. This way I can just "empty" the trash whenever they fill up.

Helps keep my car looking clean all the time!

Such a neat idea! Don't know why I didn't get it earlier. Just no more mess in the car! Especially handy for useful hand wipes and candy wrappers. My car looks clean and uncluttered all the time. Fits great on the side of my door so it does use the space for my water bottles.

Fits well in the car door slot. Perfect for fast food receipts parking garage tickets and other small trash. Forces you to empty it out because once full you can no longer push the lid.

Lovely design. Replaces loose paper, wrappers etc with a sleek trap door trash bin so little messes just do not get started. Didn't know how much I need it before I started. Mine fit in the front or rear door just fine.

These showed up and are truly adorable! The openings have a 'pop back' effect like a real trash can. They fit in my side doors/clip on the pouch of my sedan back seat perfectly. I needed these for wrappers and receipts, and they should do the job!

Definitely smaller than you think, but it works perfectly. Got one for me, and another one for my husband - we both use them now and very satisfied.

Perfect to keep all the small trash in one place and not all over the floor. I also got one for the backseat, so my son now have his own trash bin and quite happy about it.

Little thing to keep your car tidy!

Cute and functional. Fits nicely in the door panel cup holder. I am very satisfied with this product

I got these for both my cars! Very simple and useful, and super easy to clean!

These are the perfect size for all the small trash you usually have during the long ride

Nice and nit ,fit anywhere in the car, good for small pieces of trash like receipts or gums

its a car trash can. Works fine and fits in my door or cup holder.

I like putting small things in there and then emptying it when I get home

Ordered this to help me keep my new-to-me car tidy. It's smaller than I thought - for example, the wrapper of big mac is too big and takes almost all space in the bin

I love these trash bins. Now my 2 year old Knows where to put her trash and she loves it too! I have another car trash box but that's for bigger things and it's very useful to me as a mom, but this small one is perfect for the small stuff like gum I want to throw away or the wraps, gas or store receipts.

Incredibly practical trash bins for my car

I always use a small trash bag in my car. My husband hates to have a trash bag. I bought a set of these compact trash cans. The size is perfect for a cup holder. The size allows for fairly large pieces of paper, wrappers, and other trash. Press the opening for easy disposal. When full, empty the contents and rinse the plastic as needed. Even my husband loves the design, convenience, and tidy appearance. So, we both approve.

I seem to always have little pieces of trash in my car - gum wrappers, straw covers, etc. I use my car for business and got tired of using the extra cup holder as a trash can. But now I have this trash bin, and the design is also very presentable. Recommend.

When you are driving you just put small items wherever and the mess adds up. But it's not just practical things. I also like how the bins look. . Love things like this and highly recommend this product.

Gave one to my wife. She immediately put it in the door panel holder and seems to use it a lot

The lid got broken after a while, and I didn't do anything extra. Was just putting a couple of drinking straws inside and pushed the lid to close, and it's somehow fell off a socket. Disappointed.

Quick delivery, the bin fits into the door panel holder.

Simple and convenient for all the small trash

I use the small plastic bags with it, so it's super easy to empty anytime!

Surprisingly nice design! The lid is quite useful, it's very easy to use even while driving.

Didn't know I have so much trash in my car until I started to collect it in my new trash bin. Wow! Totally recommend anyone with a car.

Great for collecting parking receipts.
Guaranteed Safe Checkout