Mini Electric Eyebrow Trimmer Pen
Regular price $0.00 $24.99
If you order within
Arrives by
Beautiful brows
on demand
Don't have time to visit your brow lady but need a cleanup? We've got you, girl. Introducing the Mini Electric Eyebrow Trimmer Pen, your at-home, on-the-go solution for perfectly-groomed brows. From stray hairs to full-on shape-up, experience the convenience of a powerful beauty device at your fingertips.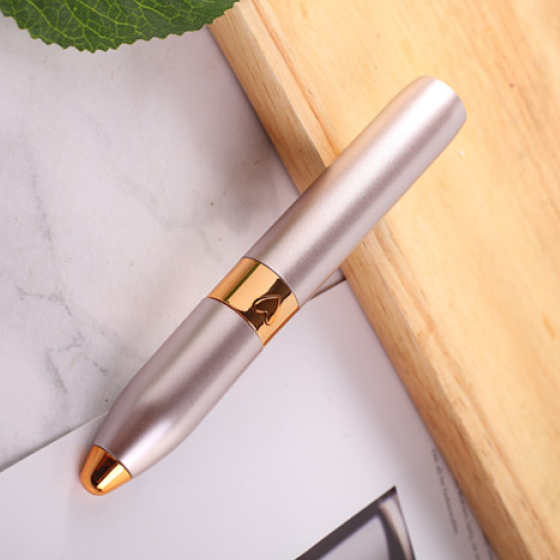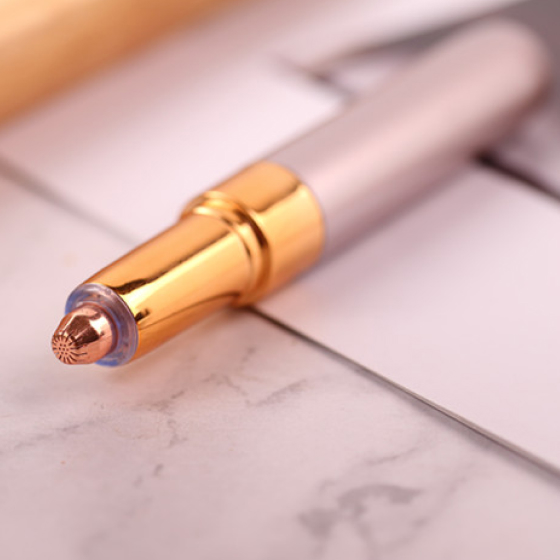 Don't be caught helpless in dim or unflattering lighting. A built-in LED light in the trimmer helps illuminate your workspace. See the finest hairs up close for precise, accurate brow trimming and shaping.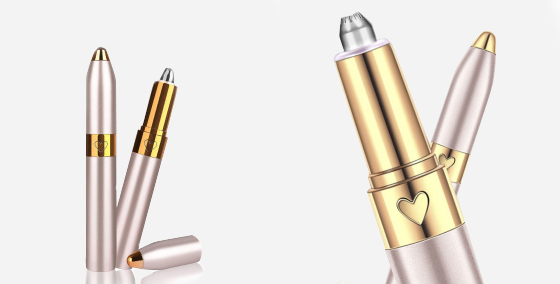 Our sleek trimmer head trims stray, unwanted eyebrows hairs with ease, never missing a spot.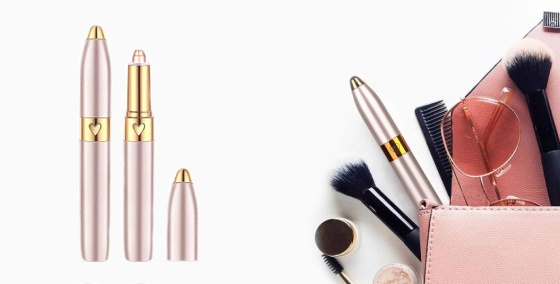 USB rechargeable
Powered by a built-in lithium battery, your trimmer can perform with finesse every time you use it -- and it's rechargeable with an included USB cord. Plug into your laptop, portable power bank, and more for easy use, wherever and whenever.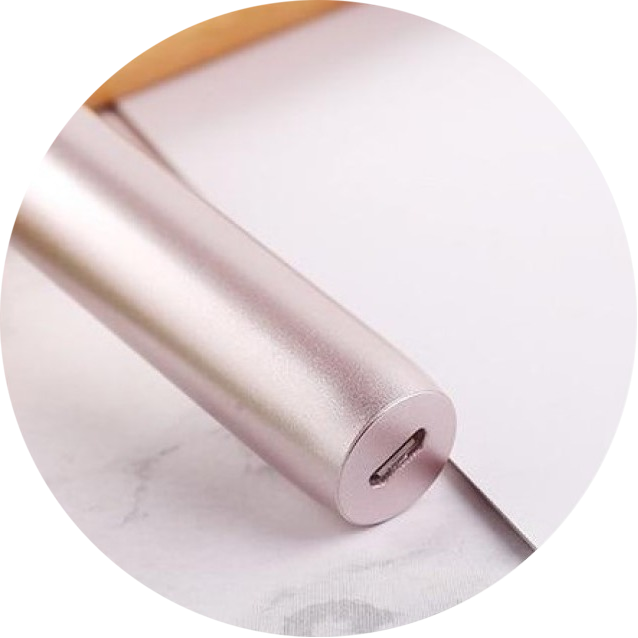 Your brow technician, on call
Learn to clean up your brows at home and over time, you can save money on pricey trips to your brow girl. Our trimmer is a beauty powerhouse for sleek, smooth brows -- anytime, and just at a one-time purchase. With on purchase you get 1 Electric Eyebrow Trimmer, 1 Cleansing Brush and 1 USB Cable.
A timeless gift
From an aspiring makeup artist to esthetician, our brow trimmer pen is the perfect gift idea to help one learn and practice one of the foundations to a clean face and canvas. Material: ABS. Size: 5.1 x 0.4 inches.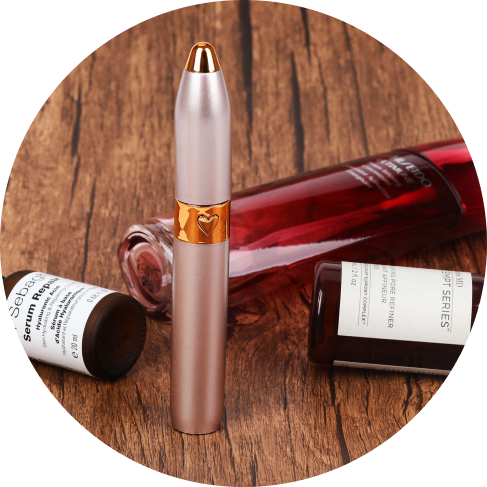 I love this hair remover! This is my second order. I bought it for my eyebrows, I hate plucking them, it's so painful. My 13 year old daughter also struggles with some hair above her lips, so I wanted to find something safe and pain free for her. This was it. It leaves the skin very soft after using it, and it lasts 2 or 3 weeks. I liked it so much I got one for my mom.

Exact product to the description. Product identical to the tele-purchase for less expensive.

It's a little hard to use! You have to really work the area back and forth to remove hair in order to shape your eyebrows. The demo makes it look like an eraser that works with one stroke across a section- not quite true. But it is faster than tweezing.

It's okay, you have to really press on your skin to get as much hair off. Doesnt get everything.

It works great, is easy to clean, and you barely have to charge it for it to work just fine (morning rush and all). My one complaint is that I haven't figured out a way to turn off the little light around the head of the razor. When I am looking in the mirror to do my eyebrows, the light washes everything out and it's actually hard to see sometimes. Nothing bad has ever happened (with bushman eyebrows, I go slow lol) but it would be nice to just turn that off sometimes *shrug*.

Beautiful stylish thing. But it seems to shave, does not pull the hairs. Thanks to the store.

Never need to use tweezers again! I already have my daughter and granddaughter using one. My best friend should receive her's Monday. They love it! It is extremely rare that I recommend anything to a family member for obvious reasons. It is great for those nearly colorless hairs that I cannot pluck. I recommend getting your brows "done" if you are concerned about this amazing tool so you can just keep the shape forever yourself. So fast and quick. Love this.

Very good, takes the hair very well. The pen very warm and light is very weak. The store sent very fast

One of the best product for such an amazing price. This can rescue you from your last minute eyebrow emergencies. Now I can visit Salon for my eyebrows just once in a month and maintain the beautiful shape as long as I want. Also it's not painful like plucking eyebrows with tweezers.

Great product! I bought two - 1 for me and 1 for my teenage daughter. She wasn't too sure about it when she saw it but actually told me it was pretty nice. Looking to save money by letting us not having to go get our eyebrows waxed every two weeks. Now we can actually do them ourselves at home, in the car, wherever whenever. And being rechargeable we don't have to keep buying batteries. Highly recommend.

Very effective in removing unwanted facial hair! And compact enough to fit in my purse, so it's perfect for travel!! I love that it's rechargeable, it's so much more convenient

This item works great according to my wife. It's easy to manage and control. My wife's eyebrows has never looked better. I even gave it a try by using it to remove unwanted hair in my nose and ears. It worked great. It's also extremely easy to clean. The given price was great and well spent

I really like this! It is gentle on your skin and trims unwanted hair fromeyebrows and face very well!I think a lot of woman complain about these trimmers because they assume they should shave all hair but if they done that you

I was hoping this would work for getting more of those fine hairs below the eyebrows. It takes quite a bit of over & over the same spot but eventually works. Just be sure to keep your skin tight. I let go & the razor grabbed the skin on my eyelid crease. Got a nice scab & puffy eye.

I gave them out as a gift. It's a great trimmer. This little product is painless and easy to shape your eyebrows too. It does not pull your hair either and cut very smoothly. It's so compact and portable.

Consistent with the description, recommend goods.

Very light. Compact, convenient to hold. Shaves well. Comes with a drawstring for charging and a cleaning brush. At the moment the purchase is satisfied.

Satisfied with the purchase, recommend

Good! Charged. Turned on-works. Looks good.

LOVE!! I was skeptical honestly. I hate going to get my eyebrows done. I did my eyebrows! I obviously went by the last shape but easily dont need to go now. I wish i did before and after. I dont have any experience in this ay all. So easy!

Super easy to use for a quick touch up anytime. I had this for less than a month and keep it in my purse (for whenever I find myself in good lighting!) I often don't have time to drive to the salon and wait for an eyebrow wax, so this product is perfect to shape up eyebrows or unwanted facial hair in between visits. Unlike tweezers, it's totally pain free and only takes seconds. Be productive while sitting in the pharmacy drive through line!!

My goal is to allow my brows grow back. I stopped waxing and plucking them. This device allows me to clean up my brows so painless and effortless.

Works well. But I thought that I would pluck and not shave, it was my fault, I read it wrong.

At first I wasn't really getting anywhere, but once I read the instructions and used the circular motion they suggest, it was better. Not the easiest task but it gets the job done.

It's not bad. It does work but you have to be patient. I use this product to clean my eyebrows and it works well. I love the light feature, that was a nice touch. A bit loud, but love the travel size. I stick in my purse and it just looks like a lipstick

Looks as described, I didn't use it yet

Quality corresponds to the price. Works without problems and complaints.

Great product for tweezing eyebrows. it's great! Small, practical!

Very good trimmer, painlessly, the instruction is attached. The store sent quickly, thanks. Recommend.

I already got the item very beautiful and it comes in good condition thanks to the store

The parcel went long! But I got what I wanted and expected. Works fine!

It does what it says it will do, the only reason I give it 4 stars instead of 5 is because you do have to go over an area a few times to remove the hair if it isn't long enough. This will definitely save you money on eyebrow waxes or threading. I suppose if you have very coarse hair this will not work well, which may be the reason for the mixed reviews. I recommend letting the hair grow in a bit for easier removal and so you don't get ingrown hairs. I'm happy with this purchase!

Excellent trimmer, shrubs small hairs, I recommend to everyone, USB cable works

I just got this and only used it once. It worked very well. After my first use I realized some the thicker hairs might need tweezed before use next time. Will take a little practice to be a pro at it but so far I'm pleased with the way it cuts and trims. I was a little skeptical but it did just what it's advertised to do.

This little instrument works exactly as described and has been a great tool in my weekly vanity care. I'm not sure why I never invested in a product like this before, but I'm happy that I eventually did. This eyebrow care tool does make my weekly brow maintenance a faster and more accurate chore. I cut down half the time needed to tame my beasts, and you can also use this device on other areas of the face. Pretty convenient! Size and weight feels good while handling, battery is reasonable, small enough to pack in a makeup bag, and rechargeable. I enjoy this product and hope this little brow shaper holds up in the test of time and use.

This was great for precision shaping/shaving. It's loud and ugly but great for low maintenance grooming. It's an electric shaver so it works best if you make mini circles and go over the same place a couple times so all the hairs can get into the little slots on the head of the device to get cut. With this I can skip tweezers and a blow blade.

Great product for eyebrows. The product does all it says it can do. Earlier I used to go to some salon for eyebrows but now it saves my time and money. Really great product.

Love this device! Got it two days ago and already used it three times, including once on my husband to remove nostril hair and ear hair. Painless, fast, works like a charm! Built-in light is amazing - wow! Light is what makes all the difference as usually it's so hard to see what you are doing. My eyebrows are looking 100% now, too - very clean, precise work! Love the charging cord that comes with the tool. I think I will get a few more as stocking stuffers for Christmas - highly recommend!!
Guaranteed Safe Checkout