Mini Yellow Firefly Drone
Regular price $0.00 $43.99
If you order within
Arrives by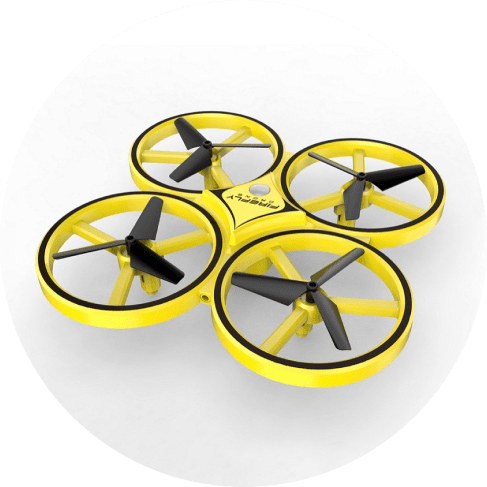 Take exploration sky high
Fear nothing and see beyond the horizon
Elevate your outdoor fun and filmmaker vision with this Mini Yellow Firefly Drone that delivers flexible functionality and control and HD video-capturing capabilities. Powered by a built-in 3.7V 500mAh battery, this little flier is rechargeable by USB (included) for fun and exploration on-demand when you need it.
Enjoy multi-function control
Captivate the skies
From gestures to wrist commands
Make your flying beauty soar with the included strap-on command wristlet that runs on linked radio control to the drone.
Designed for stable flying + footage
Our drone features four blades that operate with a built-in barometer and six-axis gyroscope chip for the ultimate balance and smoothness while in air.
From backyard to park and beach
Take your sky-conquering drone anywhere. Be airborne in seconds and impress friends, family, and strangers for hours of fun.
Your own aircraft are here
Measures 6.7" x 6.7" x 1.5" (L x W x H) for a sizable wonder that can fly and turn heads, wherever you go.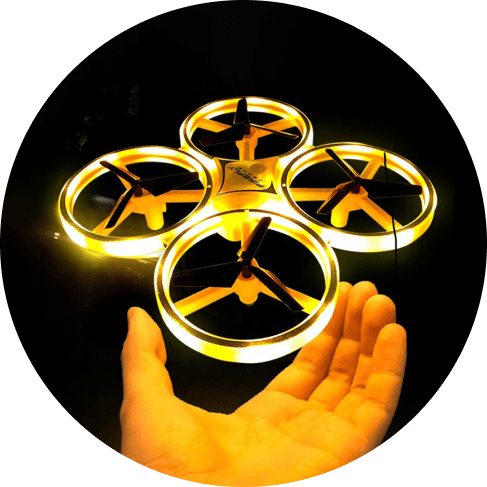 See it in the daytime
Thanks to its head-turning yellow color, you can see this drone wherever it flies in the sky.
See it in the nighttime
Built-in LED lights on all rings illuminate when it's dark, providing a high-flying show of wonder.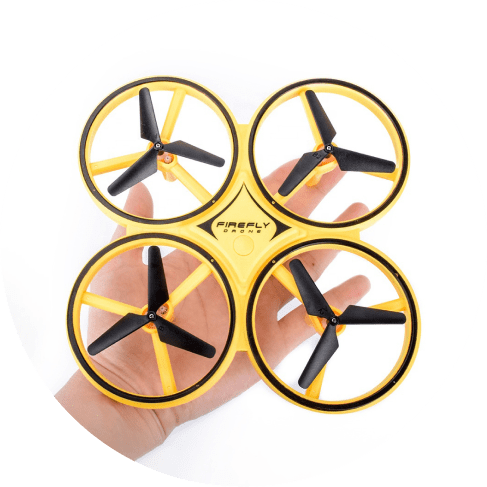 The gift of wonder for those who dream
Make visions of an aspiring filmmaker come to life or ignite curiosity of the skies and lands far away with the high-flying, multi-gesture ability, and footage-recording power of this Mini Yellow Firefly Drone.
Looking for a nice and easy beginning drone for both me and my kids and this is just what I was looking for. What makes it different from other drones I've tried is instead of using a remote control I only needed to use hand motions and a button to make me do what I wanted. As far as I can tell other drones don't offer just hand motions to operate. I've tried remote control drones and never enjoyed the experience but this was fun! Both me and my kids got the hang of it in no time. Everyone loved the flashing colors! Also, for what we got with this drone, the price was very good. We plan on using this all summer.

We have tried several different drones for our kids over the past few years, and this is far and away the best. It was easy to learn to fly and responds really well. The blades are very well protected and the plastic housing is very sturdy. So far it's been flown into walls, gotten tangled in hair, and dropped 20 feet to the ground and is still in excellent working condition. I would not hesitate to order this drone again!

I purchased this drone a little over a week ago and I love it! One thing that I really like about this drone is that it is very responsive to the hand piece. My younger siblings love it when I throw the drone and they can "push it back and forth" The hand sensor is great for when more than one person wants to play at the same time. I am satisfied and pleased with my purchase.👍

I have several drones, some for indoor use, some for outdoor/wifi cameras. This drone is fun to fly indoors or outdoors. Took some getting used to... controlling with your hand (did break a prop on 1st flight...my bad). But once accustomed to hand control, it was a blast to fly. Customer service is quite good. I'd recommend this drone to anyone...may buy another for my grandson.

I have 4 different drones so far and this one is my favorite!!! It uses a remote which is attached to my hand to control. It was hard at first but took me about 20 minutes to get used to it. I must admit once I've got used to it, it's much easier to fly a drone by hand movement than using a remote control.

Product shipped promptly and has brought hours of fun for my boys. It sounds amazing with the multiple motors running during flight and has withstood bumps and drops by 8 and 10 year olds learning the hand controls. Easily the favorite toys of this Christmas, but far from the most expensive.

Bought this for my girlfriend's little brother. Set up was fast and easy. Worked as described. We had fun with it. I'll buy one for myself next.

Super fun drone. It takes time to get the hang of flying it. And great customer service when we had a question. Thank you.

Technology exceeds my expectations. An excellent drone and very responsive. Recommend this purchase.

Very fun toy. It needs some practice to get familiar with the controls. Once you learn the tricks, just have fun!

My children and I love this drone. It's cheaper then a trip to the movies. Lots more fun too!

My kids loved these. Lots of color and easy to use. The other kids also want one like this

Got it for my 8 year old for b-day and we went to test it out and it went up over the trees and then it was out of sight, we found it down the street. I turned it off so we could find it. So it fell (didn't break or mess up) and when I clicked it back on it jumped and we saw it light up. This thing is powerful, not really for kids under 10 who aren't familiar with drones. I picked this because it's hand controlled and easier for my son to use over a remote.

I gave this drone to my grandson as his birthday gift. He loves it and he keeps playing with it. He likes the ability to operate it just by moving his hand or his finger. It makes it a lot easier than using 2 different sticks on a remote control. It wasn't easy at the start but as soon as you learn how to operate it, it is very operable and easy to manipulate. He likes the stunts or tricks the drone can do.

Very nice *toy, *works up to 10 minutes fly, the modes are not so clear to understand, but still a great gift!
Guaranteed Safe Checkout