Multi-Crystal Carfresh Diffuser
Regular price $0.00 $27.99
If you order within
Arrives by
Multi-Crystal Carfresh Diffuser
Get chic on-the-go diffusion and brighten up your commute with the Plant Therapy's Multi-Crystal Carfresh Diffuser. It's your perfect car air perfume accessory!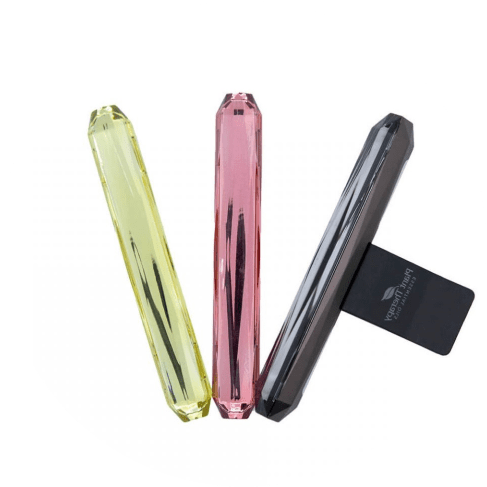 For your car's exquisite interior
Enjoy classy on-the-go diffusion
Change the design at any time
With two crystal color choices - pink and yellow - and replaceable refill sticks, the Multi-Crystal Carfresh Diffuser is such a versatile accessory!
Make your commute much more pleasant
It takes just 3-6 drops of your favorite essential oil or blend to fill your car with any lovely scent at your choice. Enlighten your mood in no time!
Affect the intensity
Each refill stick lasts a variable amount of time. It depends on the way you use heating or cooling, and on the features of your chosen essential oils.
Enjoy the versatility & easy use
Hold the metal clip base and pull out the crystal magnet cover. Add 3-6 drops of essential oil evenly onto the refill stick. Place the color crystal magnet cover of your choice back on the metal clip base. Clip the diffuser to the car vent.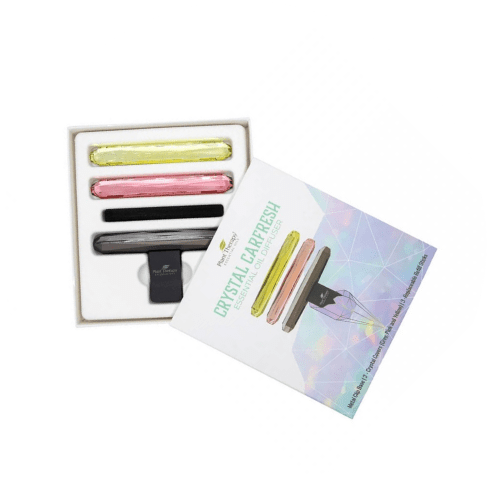 Your favorite flavors in your car's interior
With an acrylic crystal, a stainless steel clip, and the simple, easy-to-use magnetic lock, this diffuser makes a glorious and enjoyable addition to your vehicle. Measuring 3.6 inches x 0.5 inches, it has a flexible tension clip that is compatible with most sizes of car vents.
Very convenient and easy to use. Nice being able to bring nature into my ride.

Works very well and my car smells amazing!

I bought this for my wife's car. Scent is not too strong, so it's nice.

It doesn't fit Corolla vents— the clip part is twice as long/deep than it needs to be, but luckily I was able to kinda force it onto the bottom of one of my vents. Other than that works great! Tried it out with 5 drops of Mountain Air and is almost too strong! I suggest starting with the recommended 3 drops and add more as needed.

I love how the look and the good quality of the diffuser

I love that I can put my own scent in this. Very convenient.

It's okay but the smell doesn't last very long. It's pretty easy to use and clips easily onto the vent.

I really love how this works in my car! I use lavender in it and relaxes me when I am commuting to work and doesn't disrupt the heat or ac in my car!

I love this little car diffuser. Easy to use with the magnetic clip to change out the gem piece. Love the scent it gives off!

I love the look of this little diffuser and the fact that I can change it whenever I like. My only complaint is that the smell doesn't last long enough.

We are loving this carfresh diffuser for the car. You can put whatever your heart desires in it and make it as strong as you like. Simple and easy!!

The different colors were beautiful. It fits perfectly in my car vents and doesnt look bulky.

LOVE this spin on car diffusers. The crystals are cute and the scents last quite a long period of time. Will be buying these as gifts 🎁.

Love the idea of diffusing in the car without having to plug anything in. I plan to use this every day to help me relax before going to work. As a teacher I'm feeling a lot of anxiety about this school year. Will definitely be using some relaxing and immune boosting oils!

I've been using this car diffuser since first offered them. Moved it to my new vehicle. Excellent passive diffuser that allows me to chose from my large collection of essential oils and change up what I diffuse. I love my woodsy scents, so that is what I frequently use, but occasionally I do something floral or citrus.

Scent is subtle but I know I can still benefit from properties. When I first get in the car, I can smell it. When I first got the product, I couldn't figure out how to open it to get the stick out... It is obviously magnetic... :-)

I was a little concerned about the car diffusers but once I tried I got pretty sympathetic and enjoyed a lot. Especially in the mornings, I like the orange sweet smell. My favorite

Driving can be stressful at times, Im glad that I can diffuse as needed without having to use water. I add about ten drops every couple of days, I usually try to use oils that are calming and about to expire.

I love the idea of having EOs in my car instead of chemical scents and I love this diffuser! I actually bought two as gifts for other people. My only issue is that my car is older and it's the 1% where the vent slots are too small to slide the diffuser in as is. I removed the provided clamp and replaced it with bobby pins. It works but it's not as solid a clamp as the original one would have been. But I still love it

I have purchased a crystal diffuser for all of my cars! I just ordered another for my daughter's car, she just got her own car. It diffuses the oils in the winter when the heat is turned in and in the summer when the car gets warm inside, I replenish the oils ever couple months and they seem to last about that long. Great stocking stuffer !!

It took me ages to decide to buy this and I'm so glad I did. I love having it on in the car when driving and it's nice that I can easily take it off to bring inside out of the heat. I've only had this a few weeks and have been just using strong smells but I've been very happy with them and they've lasted a couple of days. I've also only used it with AC so still have to see how it works with hot air coming through. Either way I'm so happy with it and thin it's definitely worth it for this price especially.

I haven't tried these diffusers yet as I have one I had before switching to plant therapy that in using till it dies. But I've read reviews about the smell not lasting long. Just remember these are natural essential oils that you are putting in these diffusers and some scents last longer then others. Some are top, middle and bottom notes. And we also become what some refer to as nose blind, but the benefits are still there for awhile. I love all the research and time Plant therapy puts into their products.

Overall I like it. I've only used it in the summer and the smell is not overpowering. I'm curious to see how the heat setting affects it.
Guaranteed Safe Checkout