Multifunctional Car Dashboard Bracket
Regular price $0.00 $14.99
If you order within
Arrives by
From spare change to gum and more
Tight on space? Add a little box to your dashboard for added support with this Multifunctional Car Dashboard Bracket.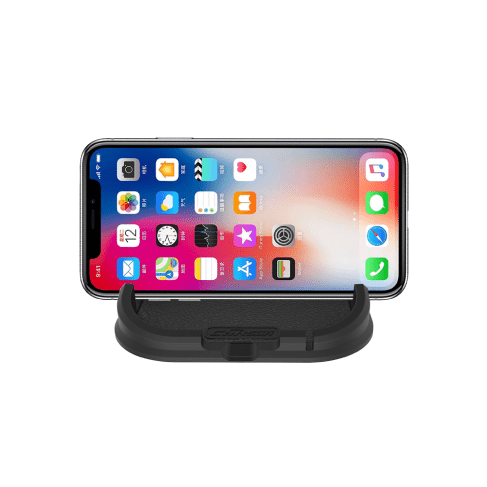 Just a bit of help
For better storage
Works great for phones
With two holder slots, you can fit most modern smartphones for horizontal hold.
Smooth & sound
A black silicone build gives a soft yet durable finish. A sticky bottom allows for sound adherence to any car dashboard.
A home for your accessories
From quarters to spare keys or a packet of gum, the 4.3" x 3.9" x 1.4" (L x W x D) storage surface of this bracket adds a touch of home for your odd-end carry-alongs.
Great for any car
Whether you have a sedan, truck, or convertible, the truth is -- everyone can use some extra storage space. Let this stick-on accessory give you a helping hand.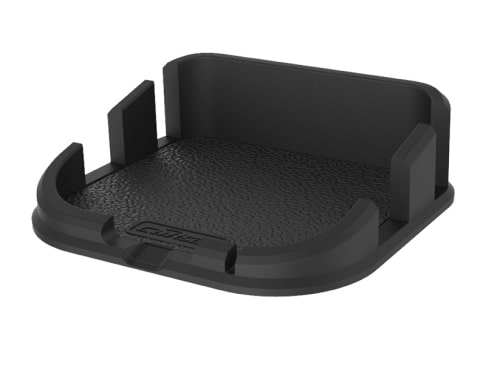 Less fumbling when behind the wheel
With our bracket, you can keep your phone or other small essentials within reach and line of sight, for safer retrieval of what you need.
I have found that many types of mounts do not work well with most types of cars. This to me would be pretty universal in working regardless of your car. You also can easily place it right where you want it rather than being limited to placing your phone near the vents or something like that. Hold tight. The other suggestion would be to put you phone in before you place the mount down. It sits a little more upright than I would have expected, so make sure you place the mount accordingly. Of course if you put it wrong, the nice thing is that this will peel back off and stick securely again.

This is a great product if you don't mind your phone being sideways. previously i had a magnetic vent mount and it was great but not great for wireless charging so i thought i would try this. it really is awesome and does the job it's intended for! my only complaint is (at least in my car) the only place this would fit because it's slightly bulky is my dash. it's out of my vision fairly well (i'm short), but it makes my phone so dang hot. I almost don't want to put it in the holder because when I pick it up my phone is blazing. I am not trying to damage my phone because of the sun coming through my dash. it could be a minor problem for some, but for me kind of a bummer.

This has stayed in place all summer (in the heat), using it multiple times a day to squish my iPhone 6s or iPhone X into. It holds up just fine and is by far my favorite mount... MUCH better than the mounts that stick straight to your glass. Few tips: Be sure your dashboard is clean before applying; The little notches allow me to store my charging cable (as opposed to losing it). Used on a Toyota Highlander (2006). I'm 6"1' and I can see over the phone easily while driving. Hope this helps!

I like EVERYTHING about this phone holder. I decided to try this style as a last resort, hoping it would work, but expecting I would have to do a modification such as hot-gluing it to my dash within a few days. No such action necessary! This is practically a miracle product for me. It stays put on my textured and sloping dash, it holds my phone securely without hard plastic grips, and I can reposition when needed. Great product, great warranty, and a great price. And it showed up in one day.

Recently I went on a long road trip and needed a holder for my phone to use the GPS, this little holder worked out great. I set it on the dash so it did not obstruct my view or slide around. I have a curved dashboard with really only one fairly flat top to sit the holder and it worked out great. Would definitely recommend.

I absolutely enjoy this product very much. It's great and convenient since it doesn't have to stick in the window. I installed it a couple of months ago, didn't even clean the dashboard (like I was supposed to) and constantly pull it to get my phone and it's still stuck in there! Great adhesive power! Love it!

This product does exactly what I needed. It sits on my dashboard securely and keeps my phone from sliding around. On occasion when I am using my phone for directions it's easy to see. I can reposition the holder easily and it leaves no residue. I've already recommended it to friends and family.

Product is well made and of perfect size, not too bulky or too flimsy. The sticky rubber is very effective. My iPhone 7 with a life case on it fits snugly and no danger of it falling out. Really great product for the price.
Guaranteed Safe Checkout