Mushroom Lamp Charger Station
Regular price $0.00 $39.99
If you order within
Arrives by
Your supercenter awaits
Establish a command center for all your electronics in the living room or bedroom with this LED Mushroom Lamp & Charging Station.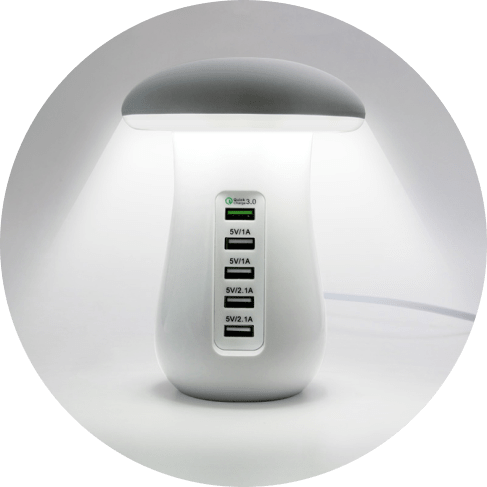 Five USB ports
One place to store all your stuff
Handle it all
From tablets to smartphones and more, the USB 3.0 slots allow you to plug in and power up -- and hold your devices in place. If you want to move the lamp, simply detach it from the base.
Plug it in and power on
The LED Mushroom Lamp & Charging Station includes a power cord that you plug in for instant power to your lamp and charging dock.
Fire up fast
With a charging output of 9V/1.2A and 5V/1A, you get quick-charging performance so you can be fueled up and on your way.
Protected all around
Our lamp includes protection from power surges, overheating, short circuits, and more -- for peace of mind.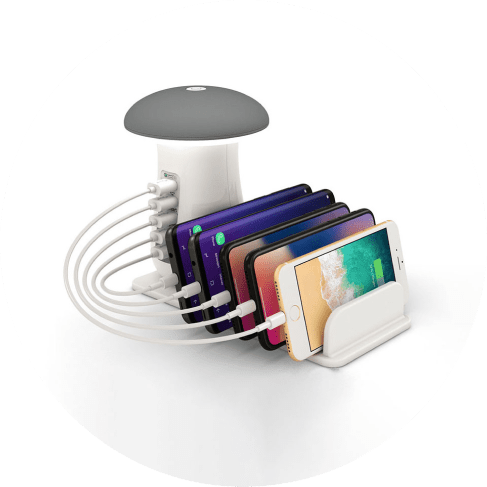 Smart. Fun. Convenient.
Get your devices all in one place for easy charging with this multifunctional must-have accessory. Consolidate clutter today for more organization.
I bought this item to make it easier to recharge my phone, tablet, and power banks. I brought this to the place where I was charging my phone. I am in the area devastated by Hurricane Ida. From 12 noon to 3:30pm I was able to charge my two power banks to 30+% and fully charge my phone. The day before I was only able to charge my phone to 90% in five hours due to charging it with generator power. This is a good item to keep in your emergency kit for emergency recharge during disasters. And at home to do multiple item charging.

This is really cool. I actually love it. But you will need to get a double sided adhesive to keep the mushroom light charger on the stand or it won't stay up. The light on it was super bright and the charger is great. I plan on getting another one. I ordered a special set of fast charging cords too. So far these are the best charging items I have ever bought. The cords are fantastic too. I'm super happy with this setup.

My fiancé and I received this as a gift from my mom. We absolutely LOVE it! It's easy to use, the multiple ports are very convenient, because it keeps us from having to spread our devices out. Three phones and two Bluetooth devices; CONVENIENT! We're using this one in the dining room, and considering getting another one for the living room!

It's pretty decent. It is a little idk. Unstable. But I just Velcroed it to my nightstand. I couldn't figure out how to get the mushroom / charging station to stay together. So I just used E6000 to glue it to the plastic base / tray. And it holds up fine. Not bad for the price. I like it 😁

It's a breeding ground for clutter with so many possible outlet choices but it's adorable and the light is impressive tbh. Haven't used it every day of having it and I'm scared to use the quick charge but I like it as a phone charger when I need it and decor/ light.

Makes a great charging station. The light is good but does not intrude on the room. Cords for just about any connection. Stand works to keep electronics upright and accessible.

The multiple usb charger with a desk lamp is a perfect combination. I love it!

The night light was a bonus. The number of ports was perfect!

It's a very adorable product and works very well.... a good product for its price

This product works well. And charges everything I need so I am very happy

I like this, it's so easy, you can charge everything all in one place

Worth every penny, so cute and works great.

Very handy and a conversation piece. Works great!

The product works great, the only downside might be that you have to buy additional Charging cords. I also like the fact that it has a light available just by pushing the top button

Overall a good purchase. Slightly difficult for me to assemble, but my husband had no issues. It's been a great addition to the kid's desks for virtual school.

I really like the charging station. The multi holding parts are very small. And the mushroom part actually is removable, i had to glue it down because it will fall over.
Guaranteed Safe Checkout