Pinata Light Clips
Regular price $0.00 $23.99
If you order within
Arrives by
Pinata light clips by Mustard
Bring the Mexican party vibe to your home or office!
Add a touch of retro by pinning your polaroids, create some feel-good vibes with inspirational quotes, or even pin up your daily reminders – a lovely housewarming gift to make the room that little more personal!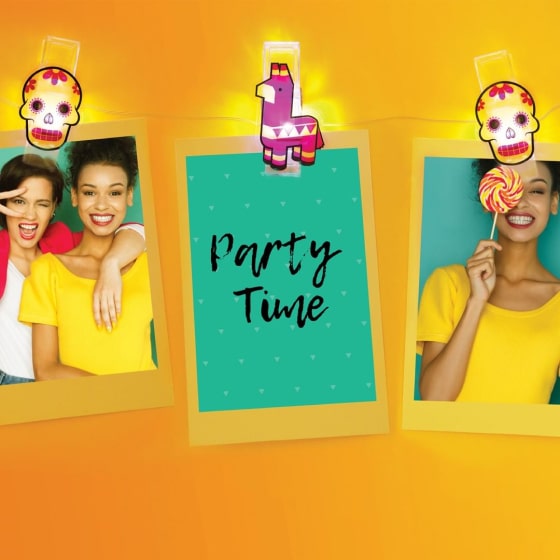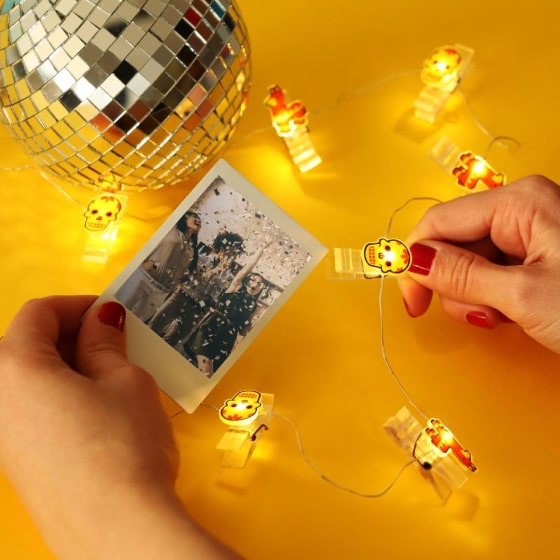 Easy to install and use
There's nothing challenging about the installation. There are 10 skull and Piñata-shaped light clips on a 1.5m wire with two plastic suckers. So it's easy to stick the clips to your mirror or window.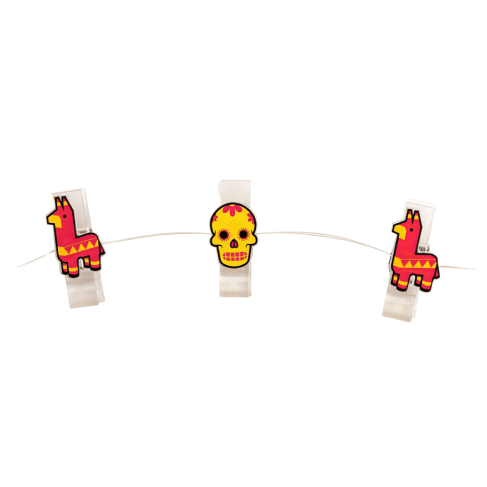 Your unique atmosphere wherever you want
Actually, with these Pinata light clips by Mustard, you have a chance of clipping up smiling pictures of your nearest and dearest, ticket stubs or even discarded socks (though we don't recommend this), so almost anything you need to create a unique climate at your working space and not only. Moreover, you'll never have to be constrained by pesky plug sockets, which lets you use this light wherever you want!
About Mustard
Your desk: The place where your ideas are born, where the magic happens. A place you spend almost the same amount of time that you spend sleeping, a place you call home that becomes your extended home. In fact you've probably spent more time staring at your screen than in to the eyes of those you love. You've probably eaten more lunches at your desk than at your dining table and let's face it, your desk is an extension of you and If it isn't, then it needs to be! Cue Mustard, the desk police, the desk ambassadors of the world! We are here to save your desk from the bleak, the mundane, the humdrum. To bring flavour, colour and a sense of belonging all neatly wrapped up in a fashion led package. And who is this company named after a quintessential English condiment? Mustard are a team of designers and trend hunters headquartered in London with offices in New York that bring the perfect combination of design and commercial prowess to the stationery world. Our quest is simple! Mustard wants 10% of the space of every desk in the world. A movement we believe in with evangelical determination. A movement that requires your support for it to happen. So join us, let's give desks out there some appreciation! Because the more love we show them the more they will love us back and our day will be just a little bit more special!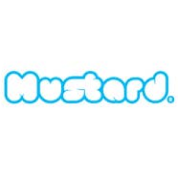 Designed In
Jackson Heights, New York
Love these light's easy to use and super pretty.

Fantastic for all occasions, great value for money!

Lovely to hold pics up, lights are nice and bright my daughter loves them!

Absolutely love this. It's so pretty when the pictures and lights are on. The wall spikes are really good at attaching and staying up And the little pegs make the whole look.

These were really good and really bright. Used for a party to hang photos up. Purchased a few different types, but these were the best. Would definitely recommend it.

Loved this product, very good quality. Bought for granddaughters 21st. Looked good with photos and the lighting was warm.

I love these, I have had many fairy lights as I like dim intimate light to relax. I like them so much that I have purchased another 2 for my friends Xmas presents. They are great.

I bought this to show pictures of my daughter's first year at her 1st birthday party. I got lovely comments on it. Looks great!

These are a great touch in my dorm room, clipped polaroid on them and it looks super cute (photo included). The only problem I have with them is that the light is not very bright, but it is nice and warm just like I wanted it.

I do really like it, these photo clips can light up my room and make the photo look more beautiful. It can hang more photos than I thought. More importantly, I like the color of its lights, it makes me feel very comfortable.

Quite bulky and tangle easily but look effective and work well

Lovely light now I've spent 45 minutes untangling the mess the wires came in! I have dropped just one point for that as they look really nice now they're up with my cards on them.

Good value and all lights still working after me messing about with them.
Guaranteed Safe Checkout