Pink Leather-Surface 6000mAh Power Bank
Regular price $0.00 $27.99
If you order within
Arrives by
Get the device-charging power you need
With an eye-catching design + look
Get style and function with the convenience of the Pink Leather-Surface 6000mAh Power Bank. Never run low on device juice when you have this plug-and-go power-up solution that's portable and lightweight.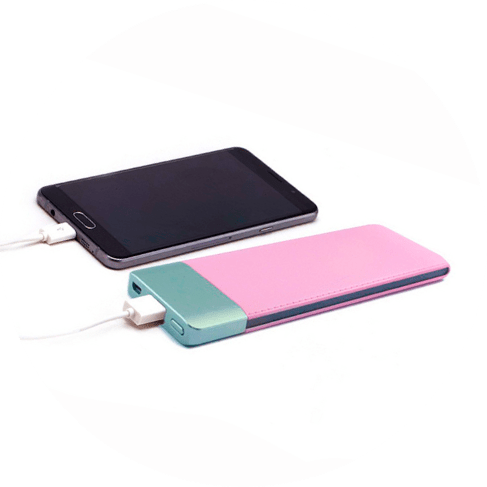 Easy, compact, portable
(It's just the solution)
Dots light the way
A four-dot illumination system lets you know the current battery level of the charger.
Dual ports for convenience
This charger has one USB output for devices and one micro cord input for the power bank's charging. It's handy assistance for your smartphone, anytime.
Charge up all your devices
With 6000 mAh capacity using a 5V input/output on a rechargeable li-polymer battery, you get dependable charging power that's always on standby when you need it.
Good grip + size
A textured carbon-fiber-inspired surface adds grip to your hold while a card-size-slim 0.6" of thickness allows easy transportation, from your pocket to a purse.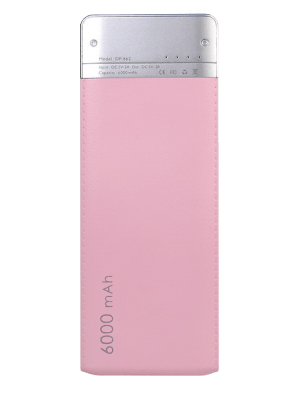 Sleek + handy + modern
Weighing just 4.3 ounces, this Pink Leather-Surface 6000mAh Power Bank is easy to carry, and measures 5.9" x 2.3" x 0.6" (L x W x D) for easy storage.
Have used it several times. Love it.

Strong magnet and high quality plastic.

It's portable and recharges your phone quickly.

Works as advertised and easy to carry. Happy with purchase.

This is an amazing product! It was perfect for my trip! Thank you.

I love it! Perfect size for my trip coming up and airplane compatible!

This is the best wireless charger I have used so far. It's a little bulky but it does the job.

Works like a charm. Easy to use, fits well in my purse and charges my phone beautifully. Glad I ordered.

This is a great product except it takes too long to charge. It is very compact and everything you need is attached to the device.

The battery bank is smaller and lighter than I thought. Easy to carry around with. The charging speed is about the same as regular plug in, and lasts as long as plug in. Overall, it's a nice charger.

This is perfect for my Samsung Galaxy A51. It charges my cell phone up to 100% and fast. I keep it with me whenever I'm out and about. It's very light and easy to carry in my pocket. I'm glad I bought it.

This worked perfectly for the trip I needed it for, but it's also proven to be a really helpful charger throughout the day if I am away from an outlet. Easy to store, compact, and fits in your pocket with the phone.

I am very happy with this purchase. Having the two built-in cords makes it very handy as I have an iPhone and my wife has an android. I never ran the battery down completely, but I can get at least 2 full charges from it. I would recommend it.
Guaranteed Safe Checkout