Pink Rhinestone Car Tissue Box Cover
Regular price $0.00 $22.99
If you order within
Arrives by
Dazzling looks + must-have function
Keep your car's tissue box in place (so it doesn't fly with every turn of the wheel) when you strap it in place with our Pink Rhinestone Car Tissue Box Cover.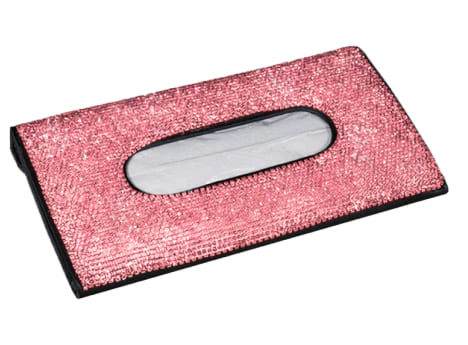 For runny noses + more
Have what you need within reach
Stellar construction that lasts
Crafted from polyurethane leather that's soft to the touch, this tissue box cover adds sleek convenience that is non-obstructive.
Shine on
If you're tired of the dull black and grey feel of most car interiors, bejewel the mood with this rhinestone-adorned accessory.
One size doesn't fit all
Remember, this box measures 5.12" x 9.05" (L x W) and only fits flat rectangular tissues boxes. It does not fit square or larger-sized boxes.
Clip it anywhere
From your sun visor to backseat pocket, our White Rhinestone Car Tissue Box Cover is designed with a velcro strap for easy closure and sleek clips for a firm hold.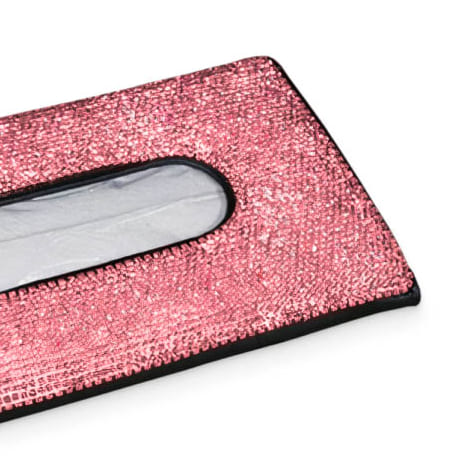 Convenience for everyone
From driver to passengers, this tissue box cover ensures your tissues don't get crushed while staying within reach for everyone.
Exactly what I had been looking for to add to my car, as I have other bling pieces from the engine starter button to the blinged out cup holders and steering wheel cover. It really adds that special touch to having a beautiful vehicle to appreciate not only for the vehicle but for yourself. Very satisfied with these additions. Matches my car's color right down to the shade.

This product is so beautiful! The material does not look cheap or wear down and the rest of the holder is very sturdy! I like that this product will have longevity due to doubling as a mask holder and tissue dispenser.

Nice but the refillable tissues are hard to get out. The tissue tears before it comes out. Very pretty product though.

I put my masks in this so I could have easy access in my car. I love how it looks and it is great for always having a mask on the go. After COVID I will definitely keep using it as a tissue holder because it is so pretty.

I love that it is so convenient to grab a mask and go .. plenty of times I have forgotten my mask but now I have them on hand always at a fingertip away. 😁

The tissue box cover is just as pictured. The pink bling is super cute. It really adds character to my car's interior. I definitely would recommend this cute little purchase.

Easy to install. Came within 2 days. But it is not that sparkly lol I mean with light shining on it yes but not much. I still love it though

Everyone is super impressed with it. Many of my friends want one. Holds my masks and they are easy to pull out.

I didn't know I needed it until I got it. I love this tissue holder. I can even fit extra masks in the back. I highly recommend.

Love that this tissue box is girly without over bling. I will use as a face mask holder 🤗

Arrived early. I'm pleased. It doesn't hold a lot of tissues, though.

Love this.. stylish and holds all my face masks

I placed this inside my car and it works perfectly.

The color and shine was immaculate!!! I love it!
Guaranteed Safe Checkout