Polyester Car Trunk Organizer
Regular price $0.00 $20.99
If you order within
Arrives by
Mess, be gone
Tidy up a messy trunk (and free up more space) with this easy-to-install Polyester Car Trunk Organizer.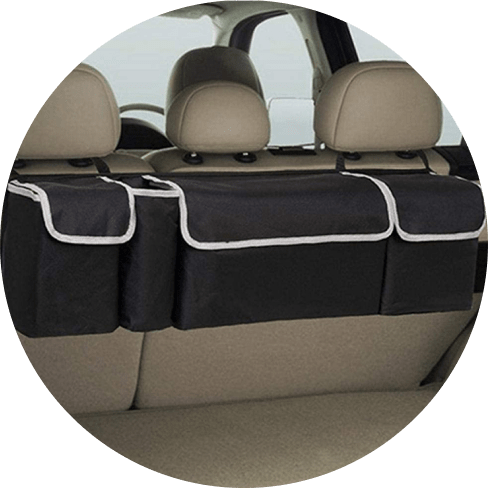 Keep your vehicle organized
For more comfortable riding
Compartments galore
Not enough storage space? This organizer is a helping hand, with three velcro-strap compartments and one large open compartment.
Snap on and store
Two adjustable buckle straps allow you to hang this organizer onto two backseat headrests for an easy, stable hold.
Measures up for most
Our organizer measures 9.8" x 35" x 4.7" (L x W x D), making it a great fit for most sedan and SUV car models. Please measure your car's backseat ahead of time for accuracy before purchasing.
For all your essentials
From gym gear to sanitary wipes or an extra change of clothes, keep your must-haves neatly in place so your trunk doesn't look like a storage house.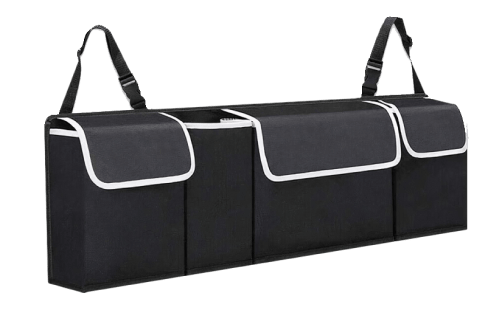 A soccer-mom must-have
If you're a busy on-the-go mom (or dad), stress less and keep your car clean and tidy with this Polyester Car Trunk Organizer.
Excellent product for price. I've bought two of these, one for each of our cars. We are busy people and need lots of stuff in our trunks, e.g. wellies, puppy bits, waterproof clothing, towels etc. These are fantastic for holding all the items and provide easy view and access to all things. Easy to locate items due to sections of boxes and extremely happy with side pockets for extra storage of smaller items. Keeps the trunk looking good. Also allows easy access to under trunk storage as boxes easily lift out without collapsing. Extremely happy with these. Tempted to buy another for shopping - the only reason I haven't is because I'm trying to use my reusable shopping bags a bit more.

I bought these as my partner was fed up with stuff rolling around the trunk. The item comes in a sealed plastic bag and opens up quite wide with pockets on the front to put smaller items. The bag does have carry handles and seems really strong should you need to lift it out of the trunk. It's a good size and sits perfectly in our trunk and does not slide around. And should you wish to put it away it folds flat which occupies very little space

Width is perfect for my small car, it only has 2 headrests so the middle sags a little. Seems sturdy and pockets are deep and good to place things that would normally slide around in the boot.

Love, love this storage box for my vauxhall car trunk. It fits in oil, petrol can, maps, jump leads, flashlight, cloths, car cleaning stuff, small hand held vacuum, blanket, soooo much more

Great product, don't hesitate to buy, very big pockets, easy to set up, and sticks well. Probably equally good for larger vehicles, just about fits in my VW beetle.

Great for the back of my Discovery, excellent to keep the trunk tidy. Would definitely recommend it. I keep my hat and gloves, binoculars, etc. in the pouches, great purchase.

The organiser has done the trick, I've used plastic boxes for years but this has different compartments and makes it easier to store and gain access to my working equipment.

Incredibly sturdy construction, adjustable size, very large capacity in full size setting. Handles for easy lifting. Handy outside pockets for easy access to regularly used items.

I am very happy with this car trunk organizer. Perfect to make more space in my trunk and it fits lots in. Just what I was looking for.

Good quality product, fits well even in the trunk of a convertible. Nice price

Helps keep my car trunk tidy. Easy to install and sturdy too.

Ordered 3 of these and I was so pleased!! So are my son and daughter.

Great item for rear trunk organisation. Easy to fit, looks good too

Slight thing to mention: more suitable for 4x4 cars, but made it work in my car as well.

Great quality, but just wasn't suitable for my Ford Expedition.
Guaranteed Safe Checkout