Portable Car Ashtray
Regular price $0.00 $14.99
If you order within
Arrives by
Dispose of cigarettes properly
(No littering, please)
Do you roll down your window and just flick your cigarette away when you're done with it? Let's not -- because that is littering and unclassy. With our Portable Car Ashtray, you get a fit-in-your-cup-holder solution for disposing of your smokes.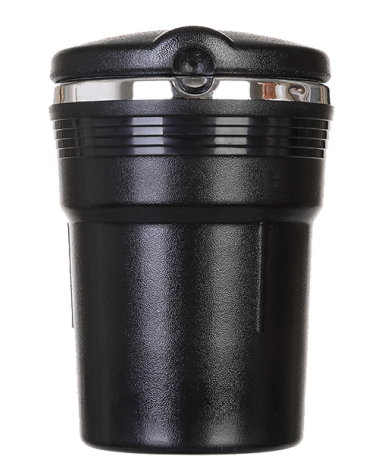 Sleek, modern
It's a simple solution
Eco-friendly, responsible help
Our ashtray allows you to responsibly dispose of buds and ash while on the go.
See in the dark
Smoking on a night drive? Our built-in blue LED light illuminates the way to proper disposal.
Fits most cars
Our Portable Car Ashtray measures 4.3" x 3.1" (L x W), making it fit for most car cup holders.
Open + close
A snap-close lid allows for secure storage and closure when you're using (and not using) the ashtray.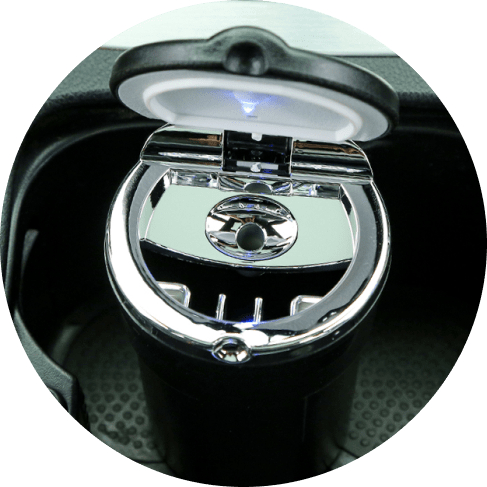 A convenient add-on for smokers
If you or someone you know smokes, this Portable Car Ashtray is a great addition to keeping ride interiors clean and ash-free.
I LOVE the LED light feature. It's super helpful for when you're driving (especially in the evening or at night). It's not so bright it's distracting, but it'll help guide you to the right place to flick the ash and then put it out. The suction works really well. It'll definitely put out your cigarette's fire, just give it a few minutes for science to do its thing. This product definitely helps keep some cigarette smell under control, but you can't expect it to get rid of all of it. If you want all the smell to go away, I'd just open up all your windows for 5 or 10 minutes and most of the smell will be gone. Overall, I'm very happy with this product!

I got this as a replacement for an old canister ashtray I had for many years. This one is great so far! The light inside is a nice feature and very useful for using in a car if you drive at night. This is easy to clean, the top twists off to empty the canister and can be wiped out. The only drawback for me is this does not fit in the cup holders in my car doors, the top is too wide for it to slide all the way down but it is not a problem. I bought a second one for my husband's truck because he liked mine so much!

This ashtray is great. It holds a charge for a very long time. The top pops open with an easy push of a button and the top illuminates at night. The best feature is that when the top is closed there is NO trace of cigarette odor. I have a friend that hates any type of cigarette odor. She is very sensitive to the smell.. The container was half full and she didn't know it was there until told her what the container was used for. I highly recommend this product.

There is nothing not to love if you are a smoker. This ashtray holds charge for a very long time for LED light which I love. No more fumbling in the dark to find where to put your cigarette out. It seals tightly and puts out smokes without leaking smoke. Will hold quite a few cigarette butts according to previous comments, I empty often so I can not attest to that. Sturdy, attractive style as well as functional. Very easy to clean. The best ashtray I have ever owned.

Have had this car ashtray for about 10 days. Love it. Ashtray is made of quality materials, very sturdy. Had a cheaper version from a different seller and it is falling apart after 6 months. Really seems this one will last a lot longer! Happy with purchase, product arrived quickly, will buy again when needed. Thanks!

My Lordness. This ashtray basically makes the smell go away. It's super cool because it incorporates electronics and technology, but whatever they are doing, they are doing it right. This ashtray will help you keep on doing what you'll keep on doing!

Great ashtray. Does the job, no smoke released if the lid is closed. Button to open the lid isn't overly intuitive, requiring the user to press & hold the button to open instead of pressing once. Good purchase.

This ashtray is a good buy...it is lit when open, top comes off making it it easy to empty, it fits in the cup holder so it can be used in a vehicle, holds two cigarettes while lit...so in a nutshell...a good product...will gift to my fellow smokers...thank-u.

Because I'm a smoker I love this ashtray! No smell in the car! Love the light at night!
Guaranteed Safe Checkout