Portable Mini Humidifier
Regular price $0.00 $26.99
If you order within
Arrives by
Forest air at any time
You no longer need to go to the forest to enjoy clean and high-quality air. With this humidifier, you will forget that you live in a polluted city. It will delight you with amazingly fresh and clean air.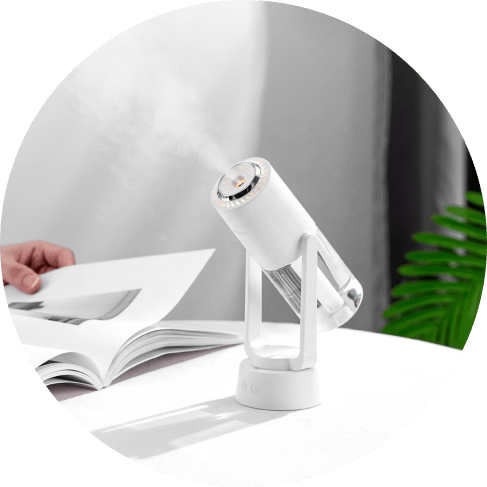 Need a breath of fresh air?
This humidifier is your savior
Ambient light
The ambient lights can create any atmosphere you want to have some visual satisfaction. They look mesmerizing, especially at night.
Design
Made from ABS, PP, PE, and silicone, this humidifier is safe and reliable. Stylish and minimalistic, it'll be a great compliment to any interior!
Wild nature air
Our humidifier will oxygenate and purify the air, eliminating bacteria and smells. Breathing with it feels like you're in a forest after a rain!
Portable and adjustable
Thanks to 4.93 oz of weight and the size of 2.75x2.59x8.38 inches, it's easy to carry! The water tank can hold 7.05 oz of liquid. You can tilt its body by 180°.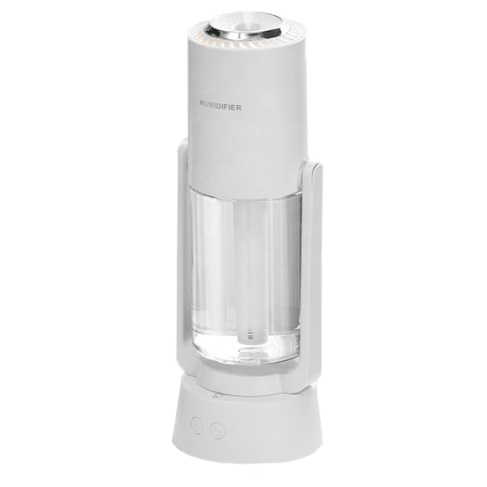 You won't get enough of that air
The city air quality is no longer an issue for you. This humidifier will provide you with the air you won't get enough of breathing! Fresh, humid, and clean air will be not just a pleasure but also a health benefit. Your lungs will be thankful!
This is the perfect humidifier! Very quiet and compact, and I love the different settings. It is definitely helpful that it can be used plugged in, or unplugged (if charged). It doesn't last a long time unplugged, but a few hours of cord free mist is all I need. My plants love it, I will definitely be buying another in the future.

It is such a perfect size. I don't have a ton of space but this little humidifier is just the right size. I love that after it's charged, it can be cordless and moved to any part of the house I'd like. But the best part is the changing color lights! If I could give this humidifier 10 stars, I would.

Our air seems dry especially when we run the ac. My nose and throat seemed to dry up overnight and it hurts sometimes. So I got this to balance it out. It thickens up the air a bit and helps with dryness. It sends a nice cool mist!

Got this because my nose gets very stuffy at night. I live in NY and with our cold winters my skin and nose suffer each night from the dry air. This has helped so much. So easy to use and very quiet.

I never thought I could be excited about a humidifier, but I can't believe how awesome this little machine is! I bought it mostly for all my plants, but also hoping it will help with my dry nose.

Unsure how effective it is for me, I bought it to help with dry cough during the night but it has not yet. I'm going to try a few different locations in the room.

Though this is a handy and portable humidifier (which was the reason I bought it), the filter doesn't last long and it just stops spraying.

This little humidifier works great. It also holds a lot more water than I thought it would. It doesn't leak at all, which is good.

E*******e on Aug 26, 2022

This was perfect for my nightstand in my college apartment. I can travel back and forth with it when I go home.

Everything works, love the colors. It arrived in perfect condition😍🙌. Can't wait to put in my work station 😁

I have had this for about a week and I love it. It has a good spray and makes absolutely no noise.

LOVE this! This is very compact and portable and also easy to fill up and wash! Very convenient.

I love that this humidifier is small and doesn't take up a lot of room. I use it every night and love it.

Really happy I bought it for my desk at the office. The air here is really dry and it worked great.

Very quiet, easy to use, portable,does exactly as described even in a big room.

H*******a on Aug 12, 2022

Works perfectly, it's nice to add a little humidity while sleeping

I really thought this would be larger according to the photos.

This is great for office use perhaps, but not great for plants.

Love - it's small, easy to clean (important), quiet, and cute!

I love the size of this humidifier. It's sleek and stylish.

I cannot figure out how to make it heat the water

It's a nice product that helps my plants grow.

I just wish the cord it came with was longer.

It didn't give me enough humidity pressure.

It is perfect for a desk at the office.
Guaranteed Safe Checkout