Rainbow Dual Arc Electric Lighter
Regular price $0.00 $38.99
If you order within
Arrives by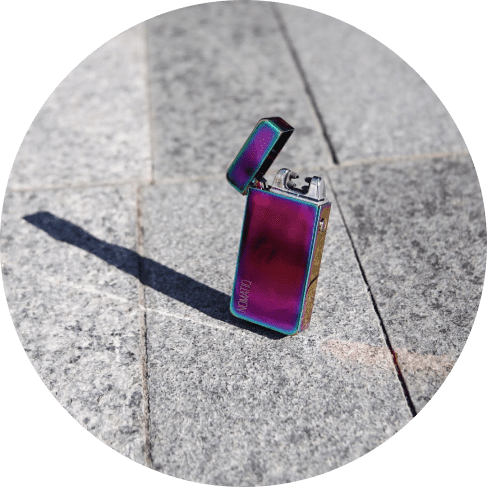 Super quick and efficient light-up
Tired of old-fashioned gas lighters? We have a solution! This electric lighter is a great gas/fire alternative lighter. No butane, no refilling. Just recharge it with the provided USB charger!
Product specifications
About the electric lighter
No need for refilling
No need to purchase any refilling supplements for this lighter as this is a solely electric charger.
USB rechargeable
The charge lasts for over 100 lights! Whenever it runs out, just plug in the USB and charge it up.
Sleek and stylish design
The lighter design is especially pleasing as there is nothing extra. It is made of Zinc Alloy and measures 2.75" x 1.35" x 0.45".
100% windproof
It is designed to withstand the wind, so no need to be afraid of it, or constantly shield the flame.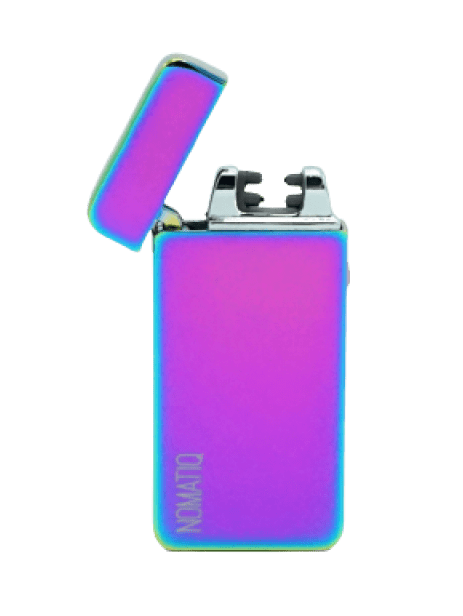 Convenient to take with you
This Rainbow Arc lighter is incredibly convenient to take with you wherever you go. Just be sure it is fully charged.
Power went out?
No need to worry!
This electric lighter can easily be your little helper and provide you with a light to light up your candles.
Need to lighten up your day?
The Dual Arc lighter will be a perfect tool for your needs
It is a tool that you can bring with you wherever you want.
The incredibly sophisticated design makes it a great accessory for anybody. Fully rechargeable via USB connection on the bottom and completely wind-proof. So, basically, this is a great accessory not only to take with you, but also to simply keep in your home.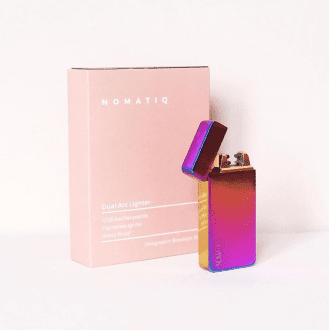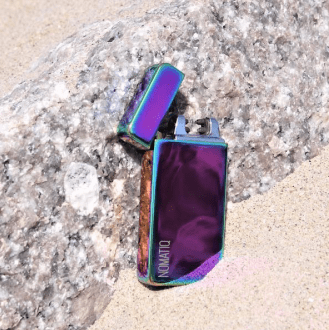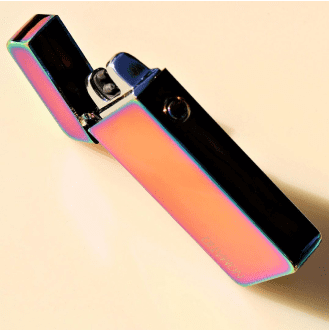 About Nomatiq
Nomatiq is a Brooklyn based design group that specializes in creating and curating meaningfully crafted cannabis-related products and accessories. Nomatiq's dual emphasis on beauty and functionality makes their products ideal for those looking to elevate their lifestyle through quality products. They have also begun a journey of transforming their business model in order to become a more sustainable company.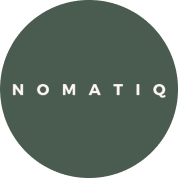 Designed In
Brooklyn, New York
Great lighter works fine and everything

Awesome lighter great function just a heads up though it is not waterproof. Shorted out my first one but other than that they are great

Much higher quality and heavier than I expected. This would be a good gift if you know the type of person that would use such a thing.

Absolutely love it works amazing! Eighth out of the box work great. Super convenient for hiking and camping can't have found better!

This lighter is exactly what I was looking for. It ignites almost completely silent. No piezoelectric hammer going off. I definitely would recommend if you were looking for a silent lighter.

Awesome torch for the price. Very heavy duty. Works great. I wish it came in other colors. But so far I would extremely highly recommend this torch to anyone who is looking for one. Beyond worth the price!!!

I gave it for my dad. He really like it. The safe cover design can advoid you getting burned by the ignition. High quality Material. You can put it in your pocket easily. I think it is perfect gifts, it packed like gift boxes. So, my dad want to buy more to give his friends. 🤗He's happy with that. So I recommend this lighter.

Really great lighter. It recharges very fast and the battery lasts a long time. I get to use the torch feature as butane is needed. But the electric arcs light candles and other objects almost instantaneously.

I haven't had these for long but the quality seems excellent and they are easy to fill. Most importantly they are easy to operate. I was so tired of the "child proof" lighters that were essentially adult proof that I decided to give these a shot. They feel solid, they look great, and they are east to operate. What more could you ask for?
Guaranteed Safe Checkout