Rechargeable House-Shaped LED Humidifier
Regular price $0.00 $25.49
If you order within
Arrives by
A home you can call home
(And provide all the warmth for)
Cozy up dry winter nights or stuffy rooms with the moisturizing and homey comforts of this fun Rechargeable House-Shaped LED Humidifier.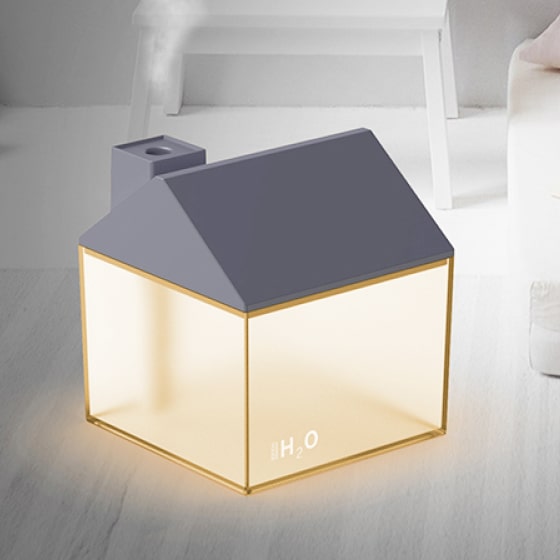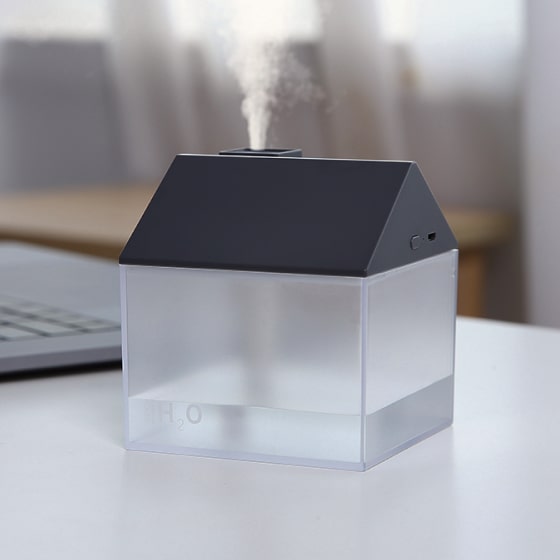 A three-in-one abode of magic
So anywhere feels like home
Mist, light, and aromatherapy
Fill up the 2,500ml tank with water, drop in some essential oils, or turn on the LED lamp for any mood or feel you want.
Down the chimney you go
To set up the humidifier, insert a moistened moisture wick (included) into the chimney of the house; power up with a USB cord (included) for up to four hours of misting time.
Shades of comfort
The LED light shines with seven colors (randomly) for a touching and relaxing mood, anytime.
House-shaped, but not house-sized
There's no bulk here with this living-space-inspired wonder; our humidifier measures 3.3" x 3.3" x 3.7" (L x W x H).
A gift of home
Well, literally. While you're not giving someone an actual house, the home-inspired design of this Rechargeable House-Shaped LED Humidifier inspires warmth and comfort wherever.
I bought this for my desk at work and everyone who walked by wanted to know what it was. It really pumps out the vapor and it is almost completely silent. I would say that if you use this for a 9-10 hour work day, you only have to fill it in the morning once and it will last the whole day. If you need it running longer before a refill is needed, there is also an intermittent vapor mode. It would make a really cute child's humidifier & night light combo if placed by their nightstand. It's very handy to have a USB-powered model as well because I can plug it right into my computer, monitor, or docking station. If you need to plug it into a wall, you will need to have a wall outlet to USB converter as it does not come with one. I'm actually ordering two more right now so that a co-worker can give them to his wife and daughter as Christmas presents!

The humidifier works great, the different setting options makes it easy to adjust it as needed. The lower setting with no heat makes the water in the tank last a very decent amount of time between fill-ups and can maintain humidity level nicely, whereas having the mist on high with the heat can quickly bring humidity up to where you want it. My apartment has only two large rooms so this works perfectly but cannot say how it will work for bigger homes, but for just one or two rooms it will work great.

Great so far. Humidity in our toddlers bedroom was 16% without a humidifier. With a cheap cool mist we got it up to 22%. With this humidifier it is easily 46% and well worth the money. When your kid is coughing every night from the dry air (under 30%) the extra sleep gained from getting the humidity up is enough to get everyone in the house up on the right side of the bed.

I wanted a reliable humidifier that actually worked. It has been working perfectly so far. The Sleep Mode is really great. When you turn on the Sleep mode, the LED light will turn off and the voice becomes really quiet. Very pleased. Leave it by the foot rest and it does an amazing job of pushing the mist though over the room.

The cold, dry Arizona air has been really hitting my sinuses this year. A humidifier was just what I needed and after weeding through all the false 'humidifier' listings (no that essential oil diffuser is not a humidifier), I stumbled on this. I really didn't need a large unit, but I was skeptical of these personal desk size types. Works great and my sinuses are much happier.

I have a pretty small bedside table and needed a small humidifier to fit on it so I don't wake up so dry every morning. I found this one and it's SOOOOO CUTE and I like the little night light. I wouldn't trust it to be used as a humidifier for a whole bedroom or anything, but it's good for a desk or bedside table!

I can honestly say I was shocked to find this little gem especially for the price. I have used it daily since it arrived at my doorstep. I've been taking it back and forth from home to work, but I will Instead buy a second one, and most likely a couple more as gifts, as Christmas is around the corner.

The size is perfect for personal usage at my cubicle. It puts out a consistent and steady amount of mist, and the reservoir lasts for the full 8 hours that I'm planted at my desk. It's pretty quiet too; you can only hear the slight misting sound if you are literally right next to it.

This little humidifier is super cute and useful, it's very simple to set up. This really helps in the winter if you have radiators or floorboard heat. It's best for a small space or bedroom, but that just means you can buy other cute designs for your other rooms.

I love it! Living in the forest fires on the west coast and stuck inside with hazardous air outside. This is so helpful for me to have next to me since the air is so dry and gross from the air pollution. It's also super kawaii. Super happy with the purchase!

I decided to give this one a try, and this one is SO EASY to use!!! The tank is big enough for 2 nights (almost 24 hours) for my bedroom. It's easy to move and it can be put. Highly recommend this one!

Love, love, love this. It is so cute. The little fan and light that comes with it are perfect for blowing the essential oils around the room. Seller is really lovely. Will definitely be buying some more for other rooms.

This humidifier is small and portable. Cute soft light feature, not very bright. It reminds me of a diffuser mist output wise, but this is not for essential oils. Strictly for water. Great if you are within 2 feet of the device like placed on your work desk or night table beside the bed. Does not last long because the tank is small. Mine needs to be refilled after 7 hours. Product is cute and works well for my personal needs.

Couple annoying features: seems you have to press the off button twice. Pressing once, the humidifier continues to work even though the display is off, sometimes turning on again. The greater issue I have is the refill cap, maybe the moisture or not a good fit? Screws on fine and can unscrew it, so the fit appears fine, but after every use, it won't budge! I sometimes need to use pliers to unscrew it! Addendum: Though I still consider this an 'okay' rating, the company does show concern for its customers and its products, so that's encouraging.
Guaranteed Safe Checkout