Rechargeable Lighter
Regular price $0.00 $47.99
If you order within
Arrives by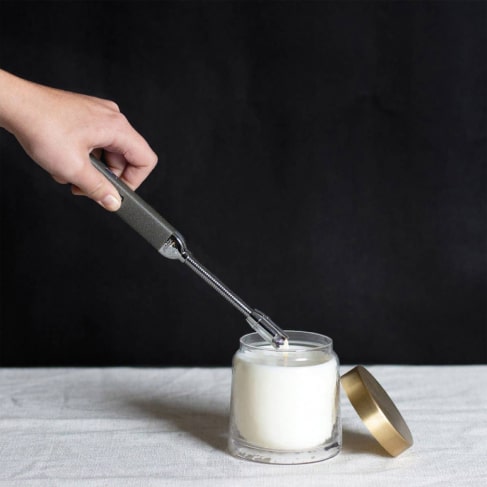 Love the aroma of candles?
In collaboration with Zippo, the trusted lighter brand you know, we're offering a flameless USB rechargeable lighter. Each lighter comes with its own charger cord and is packaged in a gift box for easy storage. The rechargeable feature decreases the waste of buying disposable plastic lighters and eliminates the extra process of refilling lighters with fluid or butane.
Rechargeable candle lighter specifications
The easiest way to light up any candle
Product details
This rechargeable lighter has the following dimensions: 4.5 x 1.25 x 11.5 in. and weighs approximately 0.65 lbs. So you can be sure that it doesn't take any room at all.
What's included in the package
The rechargeable lighter comes with a USB cord to charge it up whenever the battery runs out.
Made in the United States of America
The lighter is designed and made in the United States, and the manufacturer states that its mission is to bring creatively designed, socially responsible products to market that will inspire you on a daily basis.
Easy to use
First, activate the arc by pressing the button on the back while sliding the ignition lever up. Second, line up candle wick with the ignited arc. Remain over the wick until it is lit. When the lighter is in need of charging, use the USB charging cord (included) to recharge.
Bring more functionality
If you're the type of person that likes to light up candles to brighten up an afternoon, then you're definitely in the need of something that will make your life easier. With the rechargeable lighter, your mornings and evenings will be brighter than ever before.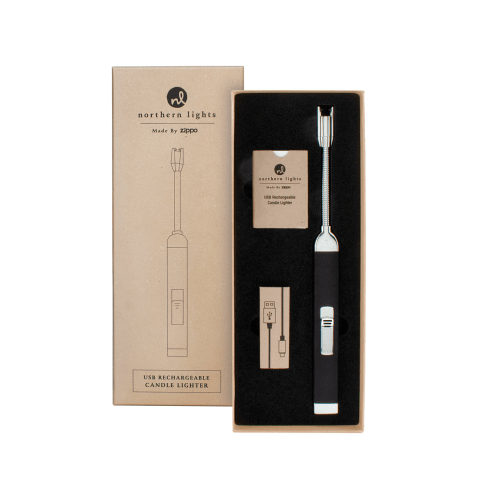 It's so cute and lights candles instantly! Perfect for hard to reach wicks! This is my new go to gift!

We just got it and are OBSESSED 🤩 We use it to smoke reefer & you can really direct the little flame where you want on your bowl and you'll go through your product so much slower.

Works great. I love it. No more looking for matches or buying those lighters just to light candles. We have a lot of birthdays and I light candles throughout the house. I'm glad I bought this lighter.

Wow. This thing is amazing. A technology I was unfamiliar with so I am super Impressed. Small and so easy to use.

Really like this! I didn't have a lighter around the house that was good for lighting candles, and I'd heard good things about electric ones, so I decided to try this.

I bought this product to light my candles because I used to use matches to light candles. This is definitely a lot more practical and super easy to use.

This a wonderful candle, etc. lighter! I'm older and this lighter is much easier to use than a conventional squeeze extended length lighter. It's well made too. I highly recommend this lighter!

Will never buy an ordinary lighter again! This is incredible, I bought it for my boyfriend for Christmas and we are obsessed. Have charged it once and used it for weeks with no additional charging. So easy to use and have had no issues! The sound took a little getting used to, but we are obsessed!

There's a lot to like about this product: it is portable, easily and quickly rechargeable (and yet the battery life is great), and has the on/off switch for when not in use to prevent accidental activation or battery drain. It works great.

What do you give a person that has everything and can buy anything she wants? Enter this super cool lighter! I was trying to think of something to give my dearest friend. She has done a lot for me and my family that I would like to get her something just because. I came across this usb chargeable electric lighter and I'm so glad I did! I got her 3 bottles of really fancy candles and paired it with this lighter and it was a perfect gift! She raved about it and thanked me and said that she ordered a few more to give away to her friends too!

My first one randomly broke after one use. But it works great. I liked it, and will buy it again.
Guaranteed Safe Checkout