Rechargeable Wireless Mouse
Regular price $0.00 $19.99
If you order within
Arrives by
Never deal with wires again
Don't deprive yourself of the usability and comfort the wireless technologies offer. Whether you want to try it out or you need a new wireless mouse – this one will suit you anyways.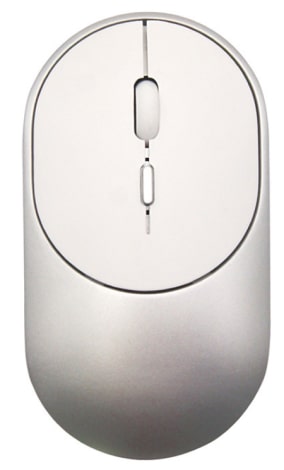 The mouse of all the mice
The versatile and elegant assistant
Wireless design
The mouse works via a receiver that you plug into the device. It makes the mouse easily compatible with most devices out there (unlike Bluetooth).
Comfortable to use
The mouse isn't big: 2.28x3.93 inches. It makes the mouse easily portable. The glossy surface under the fingers sticks to them and gives a firm grip.
Adjust it the best way
800, 1200, and 1600 DPI settings make the mouse perfect not only for working at the office, but for playing games, and other situations.
Made with consideration
FCC, CE, and RoHS certificates prove that the mouse is completely safe for the user and for the environment. Responsibility is key!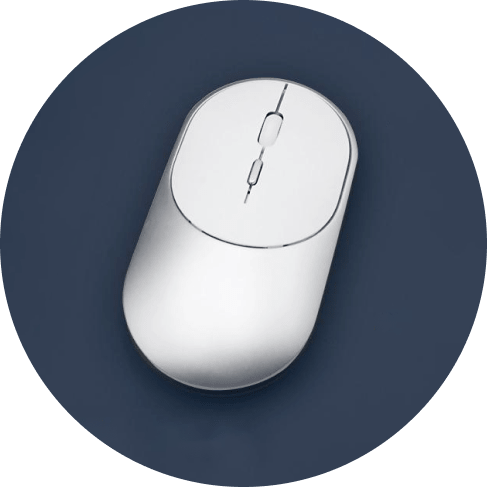 You'll never use a wired mouse again
After trying this mouse out you'll be left impressed and shocked. Shocked about the way that people still use wired mice when there are much cooler options. A definite must-have for every user.
I like this product a lot for two reasons: first, it's very ergonomic and silent. The mouse click is silent so it doesn't disturb other coworkers. Also the scroll and clicking action is very smooth. The shape of the mouse fits very well to the hand. Second, great quality and design. It looks sleek and minimalistic. I also think the quality is nice and well made.

Got this mouse to work from home. After using it for a week I'm in love with this comfortable ergonomic mouse. I was surprised at how quiet it was. You can barely hear clicks and scrolls. It's coated, so it doesn't leave fingerprints smudges. You can change the speed settings easily. And you don't ever have to worry about buying batteries!

So far so good. The mouse is quiet. It still makes a sound but nothing like the annoying sound as the old mice. It feels comfortable. It was bigger than I expected but I have enjoyed using it for a couple days. I didn't notice a lag like other wireless mice I have used. It seems very responsive. I would definitely recommend it.

The mouse is very responsive and connected with no issue. I bought this for my laptop and I will be buying another one for my desktop. I also think it is a great alternative to using disposable batteries also.

Not comfortable to use. It automatically goes to sleep after a very short amount of time not using it, and it takes like a full half second to wake up every time during which all inputs are lost.

I've been using this mouse for about a week and a half, and I'm pleased with it. It's sleek, reliable, and accurate, and the battery seems to hold up quite well. I'm pleased with this purchase.

Looks beautiful. Appropriately fits in hands and works absolutely fine. Very good product for this price range. Cons: not good for gaming. Clicks are a little harder in comparison to other mice.

It's definitely not a super solid, rugged, or ultra-premium high-end luxury product. It's just a modern take on the basics at a perfect price. Might buy a few more for travel, home, back-up, etc!

This mouse is so functional and easy to use! I love that it's not that loud and the design of it is super comfortable. The charge and setup is easy as well. Would definitely recommend it!

Quality product for a reasonable price. The slim design fits my hand. Good response to movement, the clicks are not loud, and the DPI adjustment is a nice, easy-to-use feature.

So nice not to have to change batteries all the time. Work with it all week at work, then charge over the weekend. Awesome mouse!

Click feels plasticy sometimes. Some people might not like the click of it. Wireless has no problem at all, good connectivity.

Plug it into a standard USB cable, charge it, and be prepared to live a batteryless wireless mouse life! Absolutely magnificent!

The mouse is well styled, fits well in hand, and is responsive as a wireless mouse. No negatives noted.

This little mouse is the best. It's rechargeable so no buying batteries. Fits perfectly in my hand too.

Fantastic product! Very comfortable and seemingly weightless compared to other wireless mice.

I think the body of the mouse is too long for me and not designed to fit in my hand.

I've been using this for about a month or so and I don't have any complaints.

Nice smooth clicking mouse that is comfortable with long battery life.

It will be good if it has a higher DPI.

If you need only a basic mouse you won't go wrong with this one.

This is a great mouse at a great price!
Guaranteed Safe Checkout