Retractable Hose Brush Attachment
Regular price $0.00 $14.99
If you order within
Arrives by
It's like a professional car wash
(But done by you)
Add high-grade, deep-cleaning thrill to your ordinary hose with this Retractable Hose Brush Attachment. Elevate the precision and clean of home car-washing today.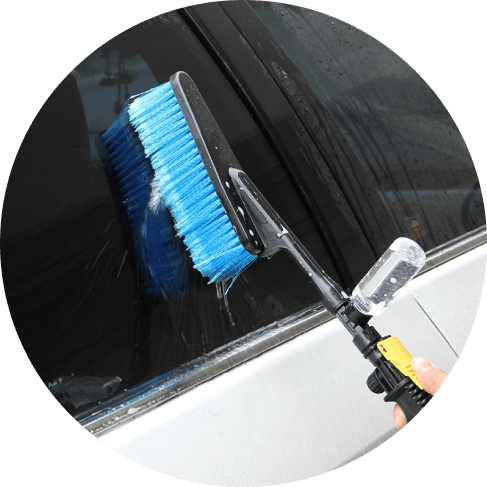 Incredible performance
Without breaking the bank
No scratches here
Our large, generous brush is crafted from PVC and polypropylene polymers, which ensure zero scratching of your car's paint.
Expand your reach
The beauty of this brush? It can expand to reach higher roofs and harder-to-reach spots on your car, for convenient, all-inclusive cleaning.
Three parts that are easy to install
Your order comes with a large blue wash brush, an attachment vial for any cleaning soap, and a lever-activated handle. Simply connect all pieces and attach to your hose for instant use.
DIY wonder
Combine the power of water with a high-density brush (and cleaning soap) with this incredible tool. It beats scrubbing and washing separately when you can merge all the work together at once.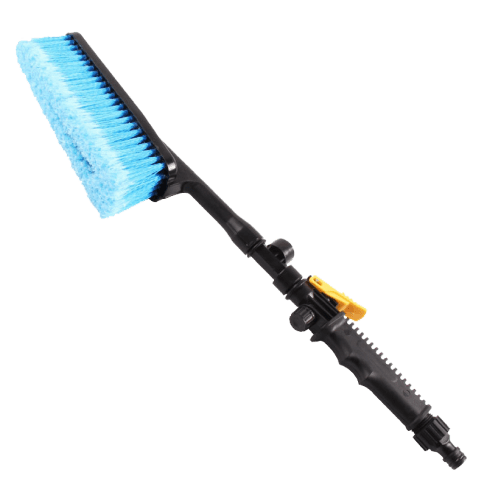 From dads to car fanatics
Guys will love this baby. Give him the gift of convenience and high performance with this one-of-a-kind power-washing wonder. Make car washing much easier and faster with a hard-working adjustable brush.
I was totally surprised when this pressure washer was able to remove mold and algae from 30+ year pressure treated stairs using our garden hose and detergent with no damage to the wood. I was also able to water my plants with the watering wand due to the reach of the spray. I have been unable to reach this bed with the garden hose alone. I can't wait to try cleaning my car and wheels with this pressure washer!

I have a power washer that I use for washing my driveway and pathways. But When I tried to use it for my sidings, I found out there were some angles and corner areas that were hard to reach. This washer wand really makes my job easier. I used the brush head to brush my sidings first, then I switched to the metal hose, in which I can bend it to different angles to reach the difficult areas. It is a nice purchase.

It's not exactly high pressure (depends on one's water pressure) but it cleans quite well - today we washed our car using this brush, in the soap cannon. The wands allow one to get up high and the bending arm easily allows for an easy reach to the top of the car - washed our car in 5 minutes without breaking a sweat. I plan on washing our RV with this gadget!! Very happy with this lovely, lightweight jet washer!

It works well. I love to hold it like a third arm and manipulate it about. I have to say that I was expecting it to improve my life and washing my car... but I had no idea it would improve it THAT much. Thanks for a great product. Thumbs up for the easier cleaning of my car and for the fact that it had all the attachments I could possibly need already included... Thanks

Love it. Strong pressure. The main purpose of this washer is not for outdoor cleaning but for the pool, it really did a good job for the after season clean. With the long handle, I can use it easily to reach the bottom and side wall of the pool to clean them without brushing. The flexible extension is also a bonus for car cleaning both the top and bottom.

It was easy to assemble. The soap container is small. I had to refill it twice, but I was washing a 40' RV. I did like the flexible nozzle attachment. And it's lightweight. It didn't leak, but I did add thread tape to be sure.

This is an excellent device for your garden hose. The attachments make it much easier and faster to wash your vehicles. It also can be used for washing and rinsing the house. This is a nice addition to my tool chest. Thank you.

This product might be created for car washing. But I found it is so good to clean our backyard floor, especially with the brush head. The soap bottle attached also helped! It is good enough for the price!

I bought this to clean a very dirty deck covered with dirt, spider webs and web debris. It worked like a charm and quickly. Everything looks clean. Good value for the money.

Very easy to connect all the tools to the hose. Water can be ejected to a long rang. Close and open handle works well.
Guaranteed Safe Checkout