Rhinestone Plastic Car Headrest Bag Hook
Regular price $0.00 $13.99
If you order within
Arrives by
Meet the helper that shines
Score some aid in loading up the car with groceries or purchases with the Rhinestone Plastic Car Headrest Bag Hook.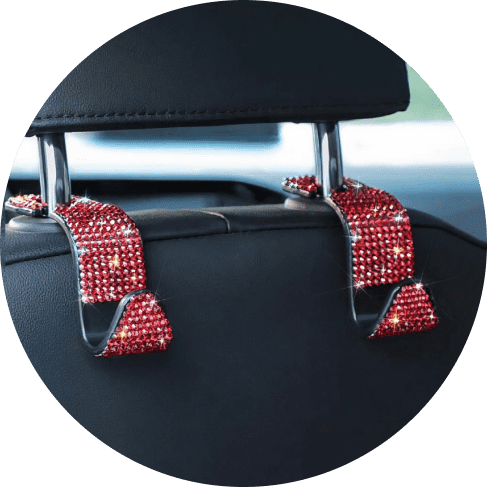 Get more space
Get more help
Free up clutter
This clip helps hold precious or fragile cargo and free up legroom for easier storage and organization so your car doesn't become a storage house on wheels.
A helping hand
Hold up to 44 pounds of weight for an essential helper, there for you all the time.
Carry it all
From an extra purse to a gym duffel or a bag from the grocery store, get the hold-on help you need for any bag with this handy clip.
Secure + strong
Our claw clip is made of polyester plastic with gorgeous rhinestones; simply clip on to a headrest pole for instant hook support.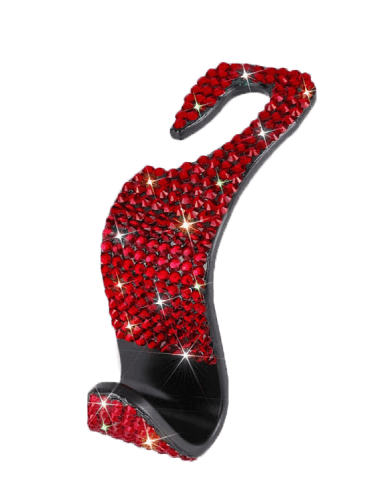 We all can use some help sometime
Equip your car or those of friends and family members with this universally-compatible Rhinestone Plastic Car Headrest Bag Hook. As long as your car has headrest poles, it can use this hook.
The red in these hangers match my car perfectly (I have a red Mini)! I've only had these a short while, and I've already received compliments. Better still: they work! They aren't too flexible to accommodate ANY bag strap, but they will help a lot, and they've held my hand bag - not exactly 'light' - securely. I hooked it right around my headrest stalks (not sure what they're called), and that's that!

Wish the hook end was a bit more open, a couple of my purses have larger, non flexible handles and they don't fit into the hook, but most of my purses and the flexible cloth handles, these work great. I use the second one to hang my grocery bag...here we have to have our own bags when grocery shopping and I hate keeping them on the seat or floor of the car so this is great!

Product came in on time with no issues with the shipping and the quality of the purchase was excellent. The rhinestones, everything was beautiful. I put this in my new car to hang my pocketbook and grocery bag, and just for convenience for hanging an umbrella, etc. Glad I made this choice. Thank you very much.

GREAT product! FAST delivery! I've always had an issue when someone sits in the passenger seat digging for my purse in the back seat! Not an issue anymore. The hooks are sturdy and so glamorous! I've gotten several compliments! Will order next year as stocking stuffers!

I love them! Made well. Nice and thick and has red sexy bling on them. It looks very pretty in the car. Adds some back seat interest and functionality to hang your grocery bag or pocketbook from or an interior garbage bag. Save the planet - stop littering.

I like these hooks to hang my purse on. It keeps my purse in place and its contents in it, especially when one has to stop all of a sudden and the purse goes flying off the seat along with its contents!

Super cute. Wish the hanger part came out a little further. You can't hang anything with thick straps on them, or very many bags. But they're still cute and serve their purpose.

Cute bling hooks. The interior of my Jeep is red so these match perfectly.. stands out. Exactly as described. Keeps bags off the floor of the auto

Can use front or back of seat…life changing…love it, co-worker recommended me to buy them…Good for groceries, bags or purse…perfect

Perfect for holding face masks now we don't worry about leaving masks at home on our way to school

Super easy to install. I hang my nursing fanny pack on one and an umbrella on the other. Frees up space!

Love them. Great for purses. So they don't end up on the floor. So cute as well. Easy to put on.

These are beautiful! I got red for my red seats! They sit well and hold my purse great!
Guaranteed Safe Checkout