Rhinestone Steering Wheel Cover
Regular price $34.99 $34.99
If you order within
Arrives by
Add a touch of princess-bling to your ride
Need a touch of glam in the car of blah? Anything that shines is always a great idea. When you're over all things pink and fluffy and just want a touch of elegance, our Rhinestone Steering Wheel Cover is just the thing you need.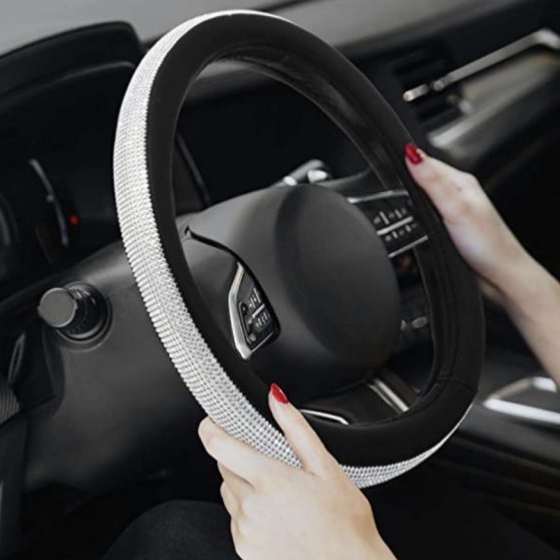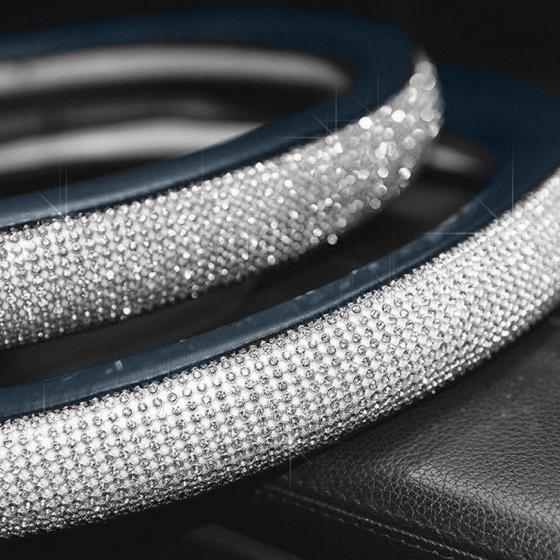 Like a commanderess in charge
Your steering wheel directs your vehicle as your drive and maneuver -- so make your command post suit your style -- bright and beautiful. Our flashy blinged-out steering wheel cover catches the sun's rays and the moon's light wherever you go.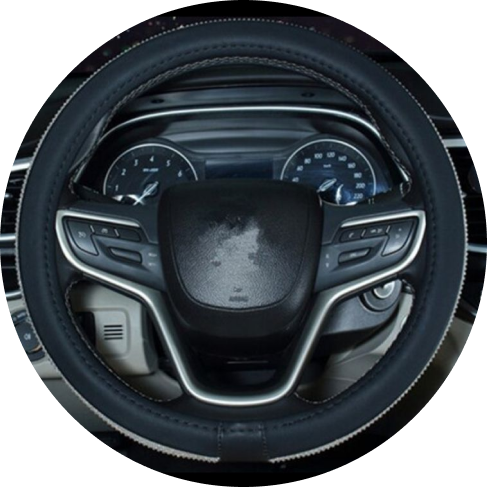 Expert craftsmanship (so luxe)
Smooth, black polyurethane leather is expert-stitched with hundreds of mini rhinestones for a chic cover fit for a princess.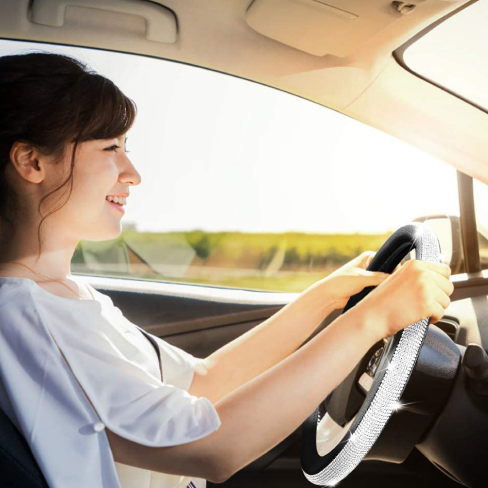 Suits just about any car
From glam convertible to sleek sports sedan, our Rhinestone Steering Wheel Cover will make you shine bright. It's designed to fit steering wheels 4.93in / 38cm in diameter, so make sure you measure and confirm fit before purchase.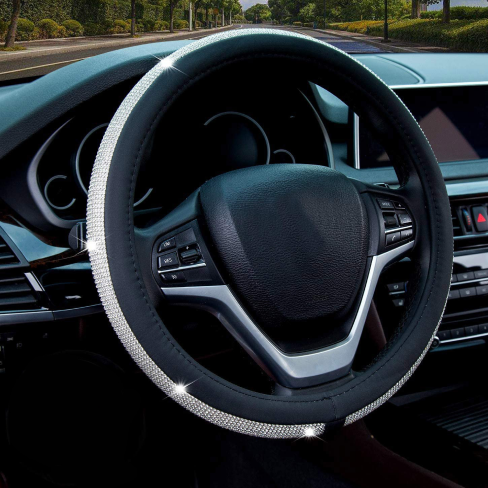 Fits my steering wheel perfect on my Hundai perfectly! Pretty! PRETTY! PRETTY!!!!! Very secure & sturdy! Stays in place & does NOT slide! Love it! Very happy! Have this for awhile now and I'm still loving it!

I was hesitant to order this, thinking the rhinestones would fall off to easily but, so glad I did! It's perfect for my VW Bug Final Edition. Just the right amount of bling without being gaudy. The rhinestones feel very secure and actually feel comfortable on my hands, almost like a gentle massage.

Absolutely stunning and great quality!!! It took some effort and time to get it on but well worth it!!!

Very comfortable, was a little tough getting it on, but I managed. Thank you! Thinking about ordering another in case something happens to this one.

So far, so good! Beautiful, sturdy looking! I love this!!! So elegant and sparkly. The rhinestones are perfect. Adds some sparkle to our car! It is very comfortable while driving. Yes it was a little hard to put on but it needs to be snug on the wheel. Worth the price!

I love all that sparkles. Apart of me wishes that it was sparkly all the way around. But it's pretty. I've had this steering wheel cover for about two weeks. It looks great, and it fits my Ford Escape perfectly. It was difficult to get it on, but I would except it to be. I'd definitely recommend it.

Nice product! Love it, looks super cute in my Ford C-Max!

My car got an upgrade with this wheel cover. It is visible when passing the car especially at night. It sparkles in the day and night. It's really pretty and shiny. When the sun hits the diamonds, you can see the reflection in your car almost like a disco ball.

Looks great in my car. I absolutely am obsessed with this cover! It shines so pretty when the sun's out and glitters in the street lights. I'm so glad I got this one!!! At first it might seem like it won't go on, but keep at it. I got mine on in under 5 minutes, and I'm not strong lol. I started at the bottom, making sure the wheel was snugly in the cover, and kind of flared the edges slowly while "rolling" the cover on. Eventually it will go! Just make sure you line it up right because it will be hard to straighten out later if it isn't centered.

I absolutely loved my steering wheel cover and key decor! It's all great quality, you definitely want to be careful when putting it on but over all I would buy again. I was concerned it might not hold up well and I might lose some of the rhinestones but it still looks new after a few months. I recommend it.

The love in my life went crazy over this product and still talks about every time I get in her car. Perfect fit. No tearing it discoloration. Very comfortable and it looks classy, for all ages.

Don't hesitate this is a great buy! It is hard to get on but once it is on it does not move! It's gorgeous and shines so pretty! I had to rustle up some force to get this mamma-jamma on, but it's been on a month now and I like it. Warms to my hand more quickly than my steering wheel which is nice this winter.

Looks amazing, feels great while driving, nice grip and still easy to turn the wheel, I love it

Gorgeous!! fits my Jetta perfectly! Rhinestones or embedded just right you won't regret it bling comfort and I can recognize my car real easy.

great quality!!! so appealing and chic

My husband put it on otherwise I don't think I would have had the strength to do it

Almost a year later and still beautiful as ever. Definitely recommend!

Was very easy to install myself, no need for someone stronger to do for me. Looks amazing when viewing from the outside the car.

Love it so pretty and very bling when the sun hits it.

Easy to install. Fits perfect on my 2019 Toyota Highlander. Love it more than I thought I would.

I love this cover! I get so many compliments on it. Doesn't feel cheap at all which was something I was worried about. Feels and looks good quality. It shines so much when driving and adds a girly touch to your interior. I definitely recommend it. I have it on a 2019 Honda CR-V

Super cute and exactly what I was looking for. I gave it a 4star because just like other reviews it was a little challenging putting the cover on but now I know it won't slid around. The stones on the cover don't bother me, but I could see it bothering people who are a little more sensitive. The cover is not too big and not small. It's the perfect size to hold!! I love it and I would buy it again!

Got my steering wheel bling bling in two days, thanks prime! It is girly, glitzy when the light hits it, day and night!

Super happy with this purchase. I have a 2019 Jetta RLine with the D shaped wheel. I found this pretty hard to put on, really tight. It got a little frustration, but it does fit. If I can do it with acrylics on, anyone can lol. Once it is on, it fits really nice and snug.

I love this steering wheel cover!!! This is absolutely gorgeous and so sparkly and shiny in the sun! It has no smell at all to it either.

This is great quality. The material is strong and the rhinestones gleam beautifully. It fit perfectly on my 2015 Chevrolet.

One thing I didn't think if when getting this was that once on I no longer can feel the heat from my heated steering wheel.

I had this installed on my 2015 Ford Escape and I absolutely love this steering wheel cover.

I've received tons of compliments. Easy to install and fits perfectly. I highly recommend this product. I plan to order additional bling bling accessories to match.

Got this for my Jeep Wrangler 2019 and it fit amazing! Looks great and it allows for a nicer grip.

It took about a day for me to get used to, but it's comfortable to use now.

I absolutely love it 😍😍 looks so good and I'm so glad I bough it I'm obsessed with it

I absolutely love my steering wheel cover. It is so sparkly and fun. It was fairly easy to install compared to others I've tried.

Super bling and gorgeous ;) Definitely need someone without long fingernails to install it. It does take some getting used to the feel of it. I love it!

It is very pretty and snazzy! I feel the bumpiness of the stones. It makes me think it will make my hands rough. I really like it a lot!

I just wish the rhinestones were less bumpy.

The bottom of the steering wheel is shaped different on my car so it makes for an awkward look but barely noticeable.
Guaranteed Safe Checkout