Shower Waterproof Speaker
Regular price $0.00 $22.99
If you order within
Arrives by
Nothing can stop the music
Every music lover knows how annoying it can be when you can't listen to music properly when around water. That's a no-brainer anymore. Our waterproof speaker will let you enjoy the music anywhere you want. Shower? Near the lake? Under the rain? We got your back.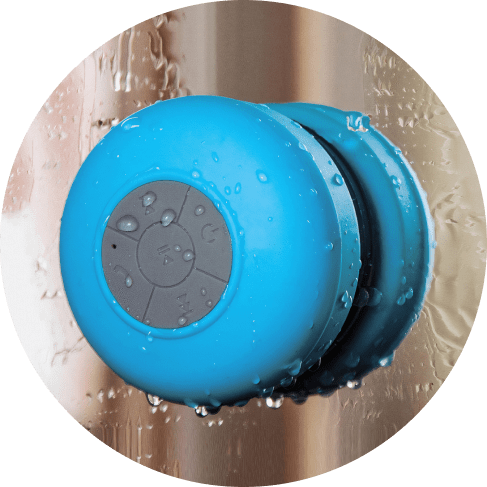 Let yourself enjoy every beat
And our speaker will take care of the rest.
Sound
A great sound will be produced by a 5W output power and a frequency range of 200Hz to 15KHz. It can get as loud as you want!
Compatibility
Bluetooth 3.0 technology makes the speaker compatible with a wide variety of devices (like tablets, phones, etc.) Signal transmission is in the range of 32,80 ft, so you have quite a freedom in moving around.
Versatility
IPX4 water resistance is perfect for listening to music near the water. A suction cup will keep the speaker firmly in place. Diameter of 3.27'' and height of 1.30'' without suction cup, and height of 2.17'' with the suction cup – easy to carry!
Tough
This sturdy speaker made of ABS plastic is designed to withstand serious physical impacts. Just what you need for the outdoors! We can't forget to mention the IPX4 water resistance technology which makes it withstand water drops! Just don't put it in the water.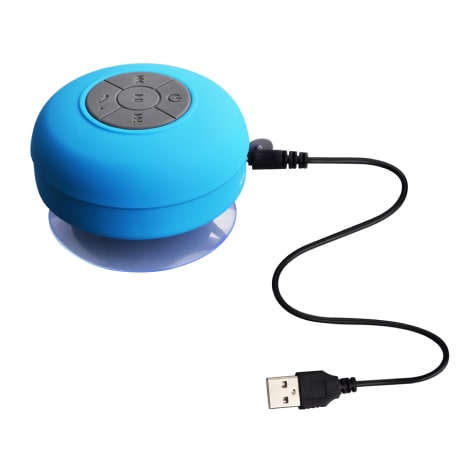 No water can ruin your fun
You can take our speaker anywhere you want, and have the best sound and experience, regardless of the place. Enjoy the music, answer the calls, talk with your friends, and don't ever worry about the water. Come enjoy the freedom and the fun with this nifty gadget!
Very loud and good quality. I love this speaker!!!

Bought two of these for both bathrooms. Works great. Love them!

I love this speaker, the only downside is the battery life.

This works great and has a great sound quality! The battery life also lasts for a while!

I use this in the shower it has great volume. Charges quickly and takes up very little space!

So far so good. It sounds good and I haven't had any issues with it falling off the shower wall.

For the price, this little speaker is a good value. No problems installing on the back wall of the shower and no problems linking up to either Apple or Android products.

I love this speaker. I placed mine with the charging plug at the bottom instead of the top so water doesn't get inside. I have used this for 3 weeks and I'm still on the first charge.

Good product for the money - my husband loved to play music from his phone while he showered . I got this as a stocking stuffer and he uses it everyday . It's not just great, but for a little shower speaker - it's perfect for our purpose.

It was a random idea to get it but I am glad I did. It has been working very nicely. The sound quality is what you would expect from a speaker like this, not the greatest, but works. I have not figured out how to control the volume but that would be nice to do from the shower.
Guaranteed Safe Checkout