Skull Air Freshener Duo
Regular price $0.00 $19.99
If you order within
Arrives by
Give bad smell the ultimate scare
Freshen up your space with the face of the dead: our Skull Air Freshener Duo is ready to work to rejuvenate your car interior.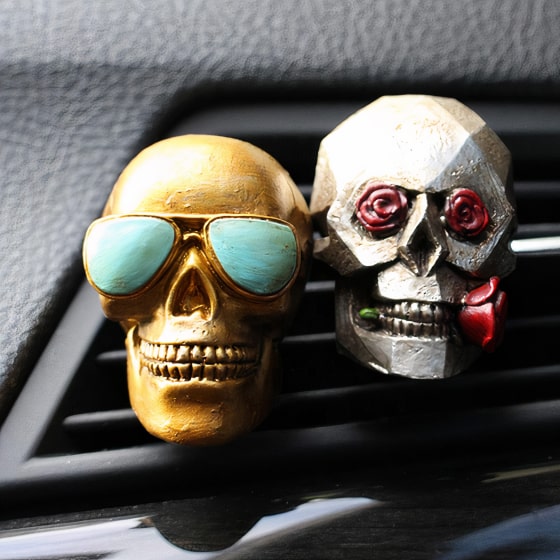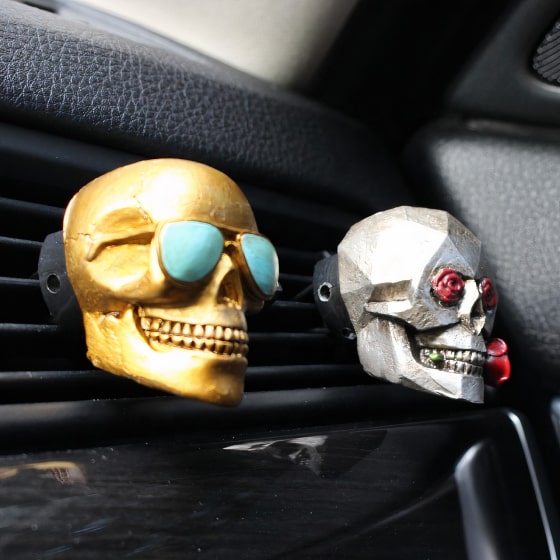 Double up on freshness
These two skulls know the drill
Simple installation
Clip-on claws allow for easy adhering to any air vent.
Hit refresh
The included fragrance tablets (one per freshener) help expel foul odors such as smoke, trash, and old food from your car.
Exquisite design
One skull is gold with cool aviator shades on, while the other is silver with rose eyes. Solid rubber construction ensures long-term use.
Scare up any rider
(Well, not really.) Add an unexpected touch of spook whether it's year-round or just for Halloween or the Day of the Dead with these two skulls.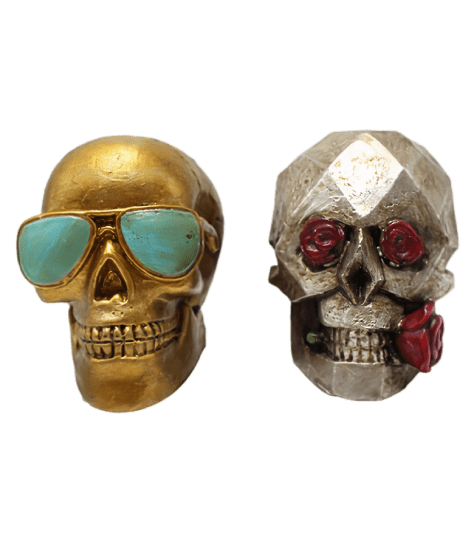 A great addition to freshen up your car
Add some spine-chilling cool and refreshment with our Skull Air Freshener Duo.
If you're into whimsical items such as this, you'll love it. I collect skulls and skeletons(no, not the human kind). The tiny skeletons feel like they're made of resin and have a little bit of weight. They fit perfectly in your air vents. It came wrapped very nicely. As far as being an air freshener, if desired, you can place a cotton ball or pad in with some essential oil. This item is much more a decoration for your car. Love 'em!

I got these because they are super cute and Halloween is around the corner. Honestly did not even realize these are supposed to be air fresheners. If I smell them directly they smell like stone, I will be putting them in my car and see if they work as air fresheners as well. Come with these nice clips to stick on the air vents in the car.

These are great even if they didn't have spots for air freshener soaked cotton or foam to go on top. They are well made, look great and snap into place firmly. If you like the skeleton motif type, think this is definitely for you or your friend or family member who does.

This comes packaged really well, there's no way these would break. They're made really well and you do have to add the clips on it yourself. They have a decent weight to them. Super super cute!

Nice little clips. Got.these for my hubby. You can spray the felt with whatever scent you like.

LOVE these little clips for the car - just one more little addition to make it a fun trip!

The scent didn't really last long. I wish it came with at least 2 sets of refills or they should sell them separately

Cool looking but any scents placed in does not last. It's extremely awesome though.
Guaranteed Safe Checkout