Steering Wheel Phone Mount
Regular price $0.00 $13.99
If you order within
Arrives by
Eyes on your navigation
For more convenience
Keep your phone right in your line of sight with this Steering Wheel Phone Mount, designed to keep your smartphone where you can see it.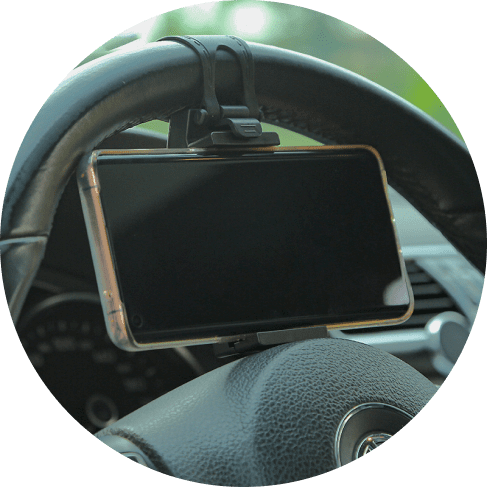 A cool add-on
(For added help)
Works for just about every phone
Our retractable spring-clip supports most phone models.
Great for road rests and killing time
Whether you're on your lunch break or at a rest stop from long-distance driving, our clip helps for easier viewing of movies on your phone to pass time.
Clip + hold
A silicone strap clips atop any car steering wheel while a retractable plastic spring-holder holds your device in place.
Works for everyone
If you're not a fan of obstructive window mounts or air-vent clips, you'll love this clip-to-your-steering-wheel solution.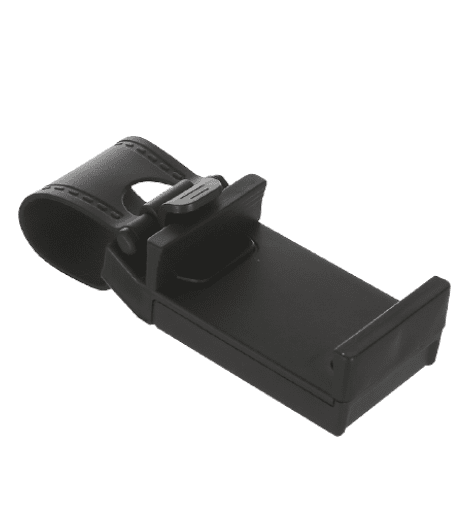 A clever add-on
Discover convenience for a firm phone-holding solution that's non-obstructive or flimsy.
I've used it on two trips in rental cars and this device works perfectly, and feels plenty strong. I'm using it with a large phone, Oneplus 9 Pro, and it fits fine. I see no issues with construction, and given the price, it's well worth it. Yes you do lose the viewing space to see your gauges, but I can still see the speedo on the right of my phone, and truth is, I only use it for GPS mapping, and my speed is indicated on Google maps, so it's not an issue. The one issue I do have is if there are many close turns, then turning off the wheel makes them difficult to see, but it's rarely a hindrance and worth the space and visibility it offers. Elastic is strong and flexible, springs are strong, I'm happy with this product.

I didn't like the product cause it only expands 3inches, so my iPhone 7 Plus doesn't work with this product, however it does fit my gps. And I had problems with the little suction cup - always found it on the floor. With this product my gps is more secure and I don't have to worry about continuously dropping my gps. My gps now sits firmly on the steering wheel which makes more convenient and safer for me to stay safe on the road. No more looking towards the windshield - my gps is right in front of me and won't end up on the floor! Has a real secure grip and it attaches nicely to the steering wheel without damaging the car. Soft rubber tips doesn't damage the gps either

I refuse to glue anything to my dash, won't use vent clips as they may damage the vents, don't want anything on my windshield so this is exactly what I was looking for. Goes on easy and also stays put. I have a 12 pro max and it fits perfectly even with the case on it. So far so good, the springs don't seem like they will last forever as they are a little flimsy but for the price I'll order a few more as back ups.

Just got this and used today for an impromptu Zoom call from my car. The strap fits tight around the wheel, I had it all the way at the top and put the charging phone into it, which was at eye height straight on. Went an hour and was able to use the touch screen with barely any movement. This is perfect for what I needed and I'm so happy it was such a small, simple and inexpensive tool.

I use cell phone steering wheel mounts on the job 365 days of the year. I like this particular brand of mount because it lasts approximately 2 years of everyday use and takes a beat-down from a 115 degree Arizona sun.

Great product, a little hard to hook around the steering wheel, but it holds and works great.

I needed something to hold my phone in the car when watching videos while waiting for my wife. Works just as it should and seems to be well made with quality materials. Very happy.

This is my second one to replace the one I forgot in a rental car. I like the ease of use, removing it when not needed and good phone grip. Highly recommended.

Wonderful idea! I received it today and hooked it up. It puts my phone in the easiest place to see a map. Great price, quality seems really good. It's a winner.
Guaranteed Safe Checkout