Telescoping LED Inspection Mirror
Regular price $0.00 $16.99
If you order within
Arrives by
Like a professional mechanic
Get eyes on tough spots and angles when fixing and tuning your wide with this Telescoping LED Inspection Mirror.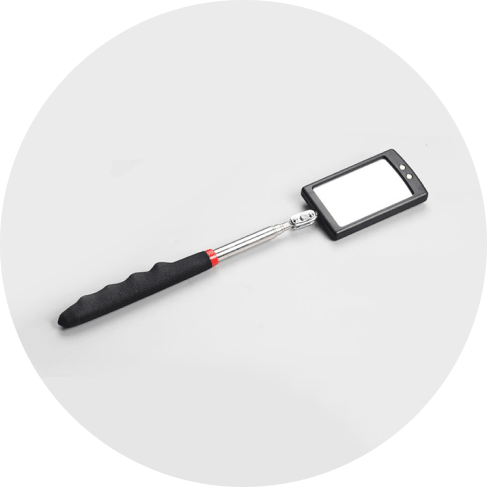 Expand your reach
See all you need to see
Eyes on what's important
With a telescoping arm, reach deep under the engine or pipes to more accurately diagnose leaks, damage, and what needs to be repaired.
Lights up (showtime)
Two built-in bright LED lights can turn on to illuminate any blockage or leaks that are hidden and out of ordinary sight.
Go near or far
Our telescoping handle expands to 24.8" at max and when collapsed, measures 11.8" in length.
Sturdy grip + feel
Made of ABC plastic and alloy steel, this mirror and its handle are quality and can last in the most demanding of work jobs or repairs.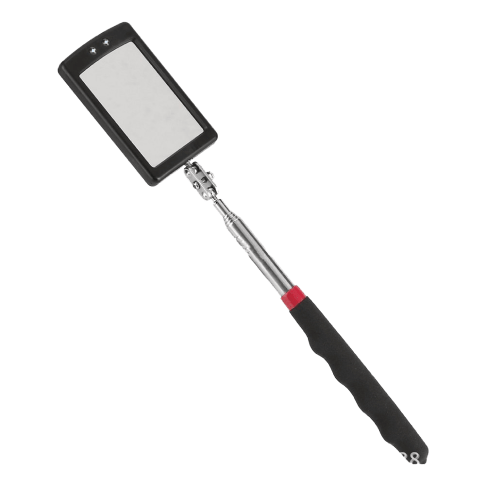 A tool of many wonders
Not a car mechanic? No worries. This light-up mirror also works great for haircuts, dye jobs, at-home repair jobs, and even studio setups.
This product did recently save me when I dropped a bolt while working on my truck. I use magnetic reach tools but after they failed to retrieve anything, I was able to use this eventually located and retrieve the bolt which has dropped into a hidden location. I really like the two led lights and the adjustable angle and extension length. It's a good tool which when handled carefully should last a long time. Giving it five stars because it already paid for itself in my eyes.

Surprisingly not a cheap feel to the telescope or the light on the mirror... Its not too bright or dim and the light lasts long enough on its batteries to get you thru plenty of extended uses. The telescope doesn't slip so it will hold the mirror whatever angle you tilt it. The only issue is occasionally having to tighten the joint at the mirror but any brand of this style mirror needs that unless they are cheap riveted mirrors and those kinds just get tossed..

I am a plumber and I use(d) this mirror to inspect the nonvisible part of solder joints in tight spaces. The light assisted mirror allowed me to see clearly where I couldn't see without a mirror, and the light works well. It could certainly be used for many other tasks. It is slightly large, which is helpful in most situations due to the large viewing surface, but could be detrimental in very very tight spaces. Great product, I would highly recommend.

good but this i guess is an inherent problem with the product but the mirror is hard to use with the led lights because the lights blind you when you look at the mirror. when you look at the mirror with the lights on you are staring right into the lights. they need some type of shade or something clever.

I needed this item so I can check the bottom of my feet. I had surgery on my foot due to a diabetic wound. It's very important for me to be able to check out the bottom of my feet in order to prevent getting another wound. This mirror works great for that.

I'm a plumber and always use this item to check my joints. Makes my job easier and is very sturdy. I'm not saying this is water proof or rugged but I've dropped it from ladders, thrown it in a tool box, got it wet too many times to count and the lights are still working . We'll definitely buy another when I need to replace it👍

Perfect for my husband who teaches commercial truck driving. Small enough to carry in his back pocket and super convenient to use. And I have used it to find a bird who was lost under the bed.

Fit my purpose. Easy to position. Like the length. Wish it would be shorter.

Works great for inspecting heels for skin breakdown on bed bound patients

For those odd to reach and see places it's perfect

Great inspection mirror for a good price.

This is a great mirror to use in hard to get to spots. It is very well made and very sturdy. It will last for years to come as long as it is taken care of. Great extension mirror!!!
Guaranteed Safe Checkout