Tire Repair Tool Kit
Regular price $0.00 $19.99
If you order within
Arrives by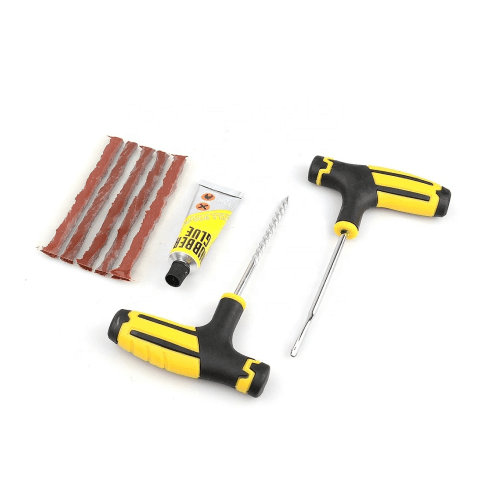 Fix punctures in a flash
For safer driving
If your car encounters a low tire during your drive, be prepared (if you are handy) to possibly fix the tire (all without needing to stop at an auto shop) with this handy Tire Repair Tool Kit.
An all-inclusive repair kit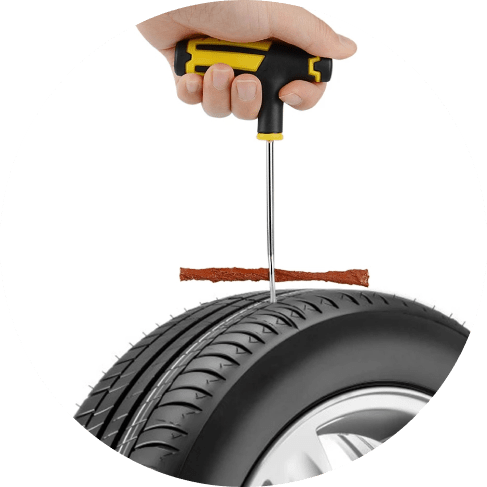 Two tools. Glue. Rubber strips.
You get a threaded drill head and fork head, in addition to rubber repair tape strips and a tube of glue that helps patch and seal punctures.
A handy (and possibly life-saving) kit
If you're a handy person, you'll appreciate the help that this repair duo provides to get any tire patched and better for the road ahead.
Be better prepared for any emergencies
This Tire Repair Tool Kit can be a trusty life-saver when in the right hands. When stranded in the wilderness or middle of nowhere, it will help to have a helping hand.
Good kit, worked well but there's a couple of tips to know. I went through 5 plugs on my first flat learning this. First off, the rasp tool is not very raspy and it takes quite a big hole to get the plug in. I started with a drywall screw hole and rasped it out 5 or 6 pulls. It was too tight and the plug tore before getting in very far at all. Redid that cycle 4 more times before the hole was big enough to get the plug in without tearing. It also helped that I took a look at the slot in the insertion tool and noticed that the inner edges were fairly sharp. I rounded them off so they wouldn't cut the plug so readily. That seemed to help also. Now we'll see if it holds air overnight.

I carry this in my Jeep, as I go WAY out in the backcountry and do not wish to be stranded. It stores well, and it's much easier to plug a hole than to try and jack up a 4WD in sand, etc. to put the spare on. Sure, it takes a little muscle and grunting to go through the hole, but lifting a 35-inch Jeep tire/wheel isn't the easiest either. It works very well on UTV/ATV tires as well. I've been able to bail people in those vehicles out of trouble, using this kit and my air compressor. It seems well made and has plenty of plugs.

While it takes a lot of strength to punch through the puncture hole into the tire. It works like a champ. A big money and time saver. Some people say to drill first to open the hole, and perhaps I should have done that, but I still managed to push it through and seal the puncture. The good news is that the tool easily withstood my entire weight as I pushed it in. The sealant strip worked as advertised. No more leaks.

This is a decent tire repair kit for the price. As long as you are not repairing tires daily this is the perfect kit for plug repairs. I live in the country and find myself repairing a tire about every three months. I leave the tire on the car/truck, jack it up with a floor jack just high enough to take the load off the tire and repair it.

Used it on my tire that had a screw in it. Bored the hole by twisting in the bore tool. While getting plug ready with another tool, (plug is very sticky) and with some grease it was ready to plug up the hole. Took a little force and some time with that grease helped the plug go in easier.

Love the large handle plug tools, actually large enough for a man to get a good grip. The case holds everything right where it should be. I have already got my money's worth in tire repairs on my tractor tires. Don't buy those cheap throw away kits. This is a lifetime kit.

This tool looks great, feels great in your hand & I've been able to plug 3-4 tires already. However, the rod coming off of the handle, that holds the rope plug, bends pretty easily while trying to push the plug through the hole. It straightens out fairly easily, but it was frustrating. If better, stronger steel was used it might prevent this. Also, the 2nd tool, the hole reamer didn't bend, but was really difficult to push through. As a matter of fact, I opted to take a drill & team the hole with a drill motor/bit rather than the kits tool. If I found I couldn't get the plug through the hole, I would increase the drill bit size slightly.
Guaranteed Safe Checkout