Ultrasonic Mosquito Trap
Regular price $0.00 $25.99
If you order within
Arrives by
Ultrasonic bug killer
Keep your household protected from all kinds of unwelcomed insects and bugs with an incredibly convenient ultrasonic mosquito trap. The great transparent design allows it to naturally fit in any room in your home.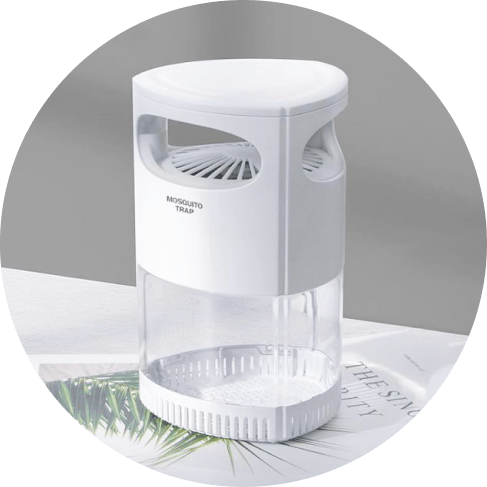 Simple solution to fight mosquitos and bugs
Our mosquito killer uses 365NM wavelength UV light to attract mosquitoes and bugs. Ultraviolet fly traps are safer to use than indoor sprays.
Mosquitoes flying at close proximity from any direction will be sucked into the insect trapper with the built-in streamlined fan's suction power very effectively.
This purely physical mosquito eradication technique kills mosquitoes in a manner completely safe to humans and pets. No electric noise, non-chemical, non-toxic, and non-radiative.
Powered by USB with DC 5V safe voltage. It can be connected with an adapter (NOT included), power bank, or any device with a USB port. Size: 4.45" x 4.45" x 7.1". Weight: 12.8 ounces. Material: ABS. Power output: 5V/1A.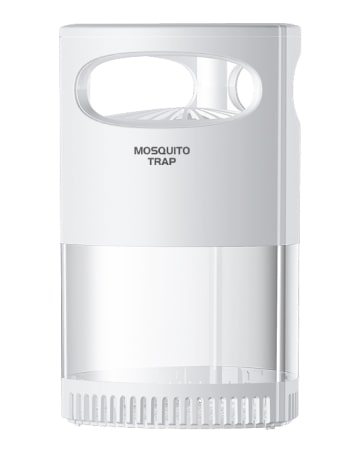 Great for indoor use
Fight mosquitoes easily! The insecticide works silently and can offer absolute tranquility. Ideal for indoor use, bedroom, study room, washroom, camping tent, or other closed environments. The applicable area is approximately 196.9 square ft.
So basically this device entices bugs with a pretty light, sucks them through a turbine where they get stuck to a glue pad and starve to death. The only downfall is that it lacks a tiny microphone that would amplify the cries of agony as a bloodsucking vector of disease writhes in agony. We have two toddler girls who kept having these horrible red welts on their skin that we would find in the morning. Turns out that, like their mother, they are highly sensitive to mosquito bites. Out of desperation we bought this little guy and since then, not one bite, only the great satisfaction of seeing the machines overnight "kills". We hate mosquitoes and so we are very happy with this product. We now have three.

This item was exactly as described. I was pleasantly surprised/disgusted how well this thing actually worked. I had a problem with soil gnats in my house plants and this device caught more than I even realized there were. I believe the problem has been cleared but I will continue to run this machine as a precaution. I had a plug in stick UV trap (with no fan that I was using while waiting for this to arrive). Although I was confident the cheaper version got them all in the 3-4 days I had it plugged in, I plugged in this mosquito trap as well and the number of gnats caught was more than double the other unit in the first 24 hours. This machine works- and fast.

This is an awesome little gnat catcher. I actually don't know if they are gnats or fruit flies. One of my children (whom shall remain nameless) decided it would be a good idea to use the water catch trey on the fridge as a drain. Afterwards, we left for an almost 2 week vacation. When we got home we were greeted with a swarm of fruit flies. After trying the bowl of vinegar and banana peel trap with very limited success I this mosquito trap. In a week, it caught most of the gnats. We live in a small house but the fruit flies seem to enjoy our bathroom. I've moved the device around from the kitchen to the bedroom, to the bathroom, and back to the kitchen. I don't review too many things, but this little guy is a winner!

I was pleasantly surprised by how well this little bug zapper works! I didn't expect much...it's small, lightweight, and simple, but it does a great job. This product IS worth the money and DOES DO what should be expected of it. I absolutely will take it hiking and hang it in my tent to kill that one mosquito that always gets in!

Working great so far! I needed it mainly to catch the house flies that are plaguing our kitchen as the weather is warming up, but we have fruit fly/gnats too so I figured if they didn't catch the house flies at least we'd get the little ones. There are 7 house flies in it right now! I'm so far pretty satisfied. Will leave it on overnight and see what else we get!

If you're going camping, put this in your tent before you lay down. Pesky gnats in the kitchen turn this on before going to bed you will get positive results. Unit works perfectly. Charge lasts a good 6 hours and can be left plugged on and in operation while it charges...

Bought this product thinking it was not going to work very well. I was wrong! This zapper is great. I can place it anywhere since it is small, but don't let the size fool you. It works great!!

Better than I was expecting for the price. Easy to clean and is pretty effective at killing bugs and flies on the porch.

This really works. If you put it in a dark room at night it zaps away. All the flies, moths, etc. I charge it during the day and turn it on at dusk.

This is a pretty effective fly killer that has the huge advantage of having a rechargeable battery built in, so isn't tied to a power supply. You can position it just where you need it.

I like this compact little zapper. Works well. It caught a few moths and a couple mosquitoes overnight.

Needed something to kill fruit nats and this works great

Works surprisingly well. A great value for the price.

A great trap for mosquitoes, it does its job well. I would give it 5 stars but I'm not that satisfied with the battery life. It's good for the night but then I need to charge it again. Good thing it can be used while charging though

Let's start by stating it is easy to set up and looks nice. However, I expected that if I left it on (standard setting) over a weekend at least some of the fruit flies that buzz around my desk would be sucked in and die a sticky death. It should be noted that I don't have a lot of flies, but none of them decided to commit suicide by being sucked into this trap. The fan is running and the blue light is on but no-one is home. After a week of use, it did 'katch' one fruit fly (probably died of old age). Yet, his cousins harass me right next to the device. I try to coax them to the device and they show no interest. Maybe they saw their cousin Fred the fruit fly go in and never come out. Who knows...
Guaranteed Safe Checkout