Ultrasonic Skin Scrubber
Regular price $0.00 $30.99
If you order within
Arrives by
A top-notch skin treatment
This ultrasonic scrubber is a must-have for anyone who cares about their skin. It gets all the gunk out, gets rid of blackheads, lifts the skin, and improves the absorption of nutrient-rich products. Experience the luxury of the best salons anytime you need it. Softer, smoother, and silkier skin is no longer a dream.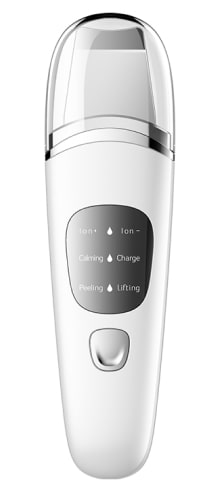 Shining, glowing, flourishing
These expressions will perfectly describe you and your skin after using the scrubber!
Different modes for different purposes
The scrubber has 4 main modes. Blackhead removal, improvement of nutrient absorption, deep cleaning, and face lifting. The user manual can give you the most detailed information on all the aspects!
How often should I use it?
It's ok to use the device 2-3 times a week. If you have dry or sensitive skin, once a week is perfectly fine. Don't hesitate to consult with a dermatologist in case of redness or irritation. The device should make your skin soft and smooth.
It's so simple to use!
Before using make sure the spatula is disinfected and your face is clean. Spray some water on your face, turn the device on and start gliding. Apply water if needed. 3-5 minutes is enough. Wash your face after, apply toner, and disinfect the spatula.
Product specifications
The battery takes up to 120 minutes to charge, and it'll last for 50 minutes of treatment non-stop. Immediately charge it if all 3 mode indicators flash rapidly 5 times and go out; if the device doesn't turn on if you press the power button.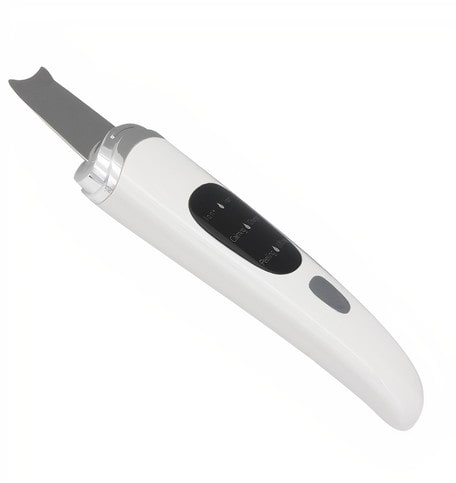 Skincare like none other
You can finally get to enjoy the beauty of the skin that you have always dreamt of. You'll have a softer and evener tone, silken feel, youthful and lively look. That won't come at an expensive price – you'll save up a tremendous amount of money. You won't be able to imagine your skincare routine without having this helper. It's a definite steal of a deal.
Great tool! My skin looks amazing after using it!

Never thought I had that much... stuff on the side of my nose until I used this. Gross but satisfying!

It does get rid of superficial blackheads and all over "junk", but I wouldn't recommend trying with the deeper blackheads; you will only hurt yourself.

This is just amazing, it really cleans your face like nothing I have ever tried. I just love it!

Just used for the first time, just on a few areas of my face. Don't know what kind of liquid besides water to use, I steamed for only a couple minutes, which probably wasn't long enough to open pores properly. My chin came out good but cheeks, not so much.

Works really well. My skin feels so soft after each use and after a week I noticed my pores were smaller.

This small but powerful gadget is a must-have in everyone's skin love routine. I've been an esthetician for over 20 years and finally, I can extract blackheads without feeling like I'm hurting my clients. Just get it y'all. Parents with teenagers that have acneic breakouts...get this. Honestly, get it.

I was skeptical at first, but my pores are always so clogged so I was willing to give this a try. I gave it a dry run, using it without steaming my face to loosen the gunk in my pores and it still was able to pull out stuff. I'm impressed! It charges quickly (glad I don't have to worry about batteries), it's a sleek design and is very easy to use.

I personally didn't think I had that many blackheads but I was sorely mistaken. Before using it, I made sure I scrubbed and cleaned my face really well. What came out of my pores shocked me. I didn't think I had blackheads on my cheeks but apparently I do. My nose I could clearly see them and some masks don't remove them. I was even able to get the crease of my nose. Same could be said for my chin as well. This scrubber really does get in there and gets everything out.
Guaranteed Safe Checkout