Unisex Waterproof Fitness Bracelet
Regular price $0.00 $33.99
If you order within
Arrives by
Functional style
Finding a stylish AND functional fitness bracelet can be a struggle. Some look great but work poorly, some work perfectly but look not so good. Where's the happy medium?
This is the happy medium!
Don't ever compromise on style or capabilities
Everyday life
It's a great helper in everyday life: you can control the music, take pictures, get push notifications, set an alarm clock, take photos by shaking it.
Health
You can easily monitor your heart rate, blood pressure, blood oxygen, sleep with this bracelet.A sedentary reminder will keep you energized at work.
Technology
Compatible with iOS 9.0+, and Android 5.0+, the bracelet pairs with most of the devices. Bluetooth 4.0 is required for this bracelet, which also makes it easy to connect with most devices.
Truly thought-through design
The black color and unisex design make it an awesome accessory for anyone. The length of one band is 4.72 inches, and the circumference of the wrist is 10.23 inches. Easy to adjust, right?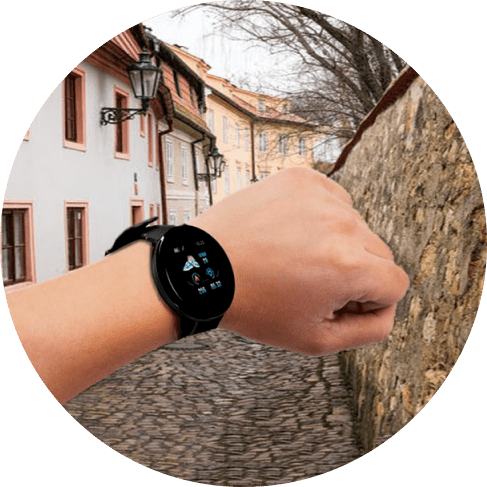 A beautiful solution
If you value money, functionality and style, then this smart bracelet is for YOU. IP65 water resistance ensures that the device can withstand rains and no dust can get inside the construction. This little device will help you enjoy your everyday activities even more!
I really love this tracker. So much better than my last one.

Very pleasantly surprised. Mainly got it to notify me of texts and calls when my phone wasn't on me. Works great.

Works very well and seems to be pretty accurate too. Does everything I need it to do for a really good price.

I love this device. This tracker exceeds my expectations. It tracks my steps, heart rate and my sleep. inform me about the text, email or events.

Everything I expected for a great price. Have only had it a week and haven't used it extensively, or been able to compare it to other devices. Super easy to charge.

Things I Love about this watch: it is waterproof, I can wear it to the gym to get a heart rate reading, and it even has a built-in USB charger so I can easily charge it in my car or on the go.

We purchased this for a family member as a gift and they really like it. This is what they said: "It seems to be very accurate and comfortable." So glad they like it and I think you will, too!

So nice fitness tracker for the price, 100% recommended! This watch works great, and has all of the features I was looking for. It's easy to use. It's also light and comfortable, I can wear it to play basketball.

This fitness tracker is exactly as described and exactly what we wanted. I am so pleased with the color and quality. It has a lot of features and easily gets paired with your cell phone. I really love this watch! After a half a year of using it I still love it! Works great!

When I ordered I was worried if the watch would be too heavy, and I am pleasantly surprised by how lightweight this watch is. It is extremely light on my hands, and the straps are extremely comfortable, which I really like about this watch. Also, this watch is extremely simple to use.

I love this bracelet! The blood pressure monitor is what sold me on this one. It keeps up with everything. Gives me a reminder if I've been sitting too long, hourly heart rate and blood pressure checks. Sleep quality, waterproof, steps, and on and on. Unbelievable how great it is at such a low price! Oh yes, and the app is great too. Win, win!!

Actually, I bought this Activity Tracker for my wife. She loved it as she is able to track her heart rate, blood pressure and other health activities. It has a physiological period reminder, which my wife loved the most. The display is clear and bright and the single button interface is user friendly. The battery life is amazingly good. Great product for the price and would recommend this one absolutely.
Guaranteed Safe Checkout