Universal Tablet And Phone Holder
Regular price $0.00 $26.99
If you order within
Arrives by
Universal holder for your device
Sleek and functional
Our holder is a great engineering solution that'll not only organize your desk, but also will make you never want to use your favorite devices in any other way.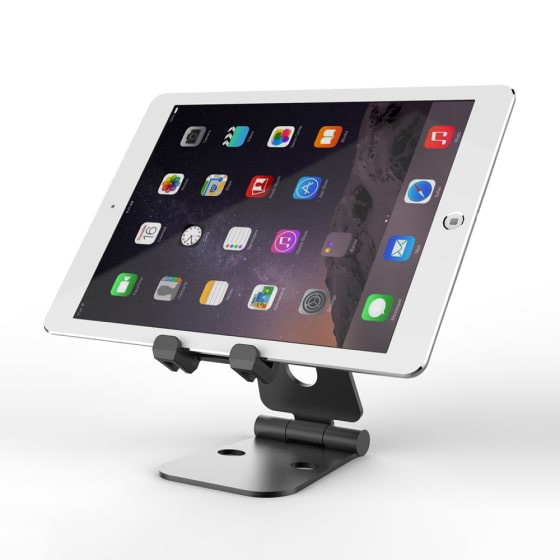 Little holder for great devices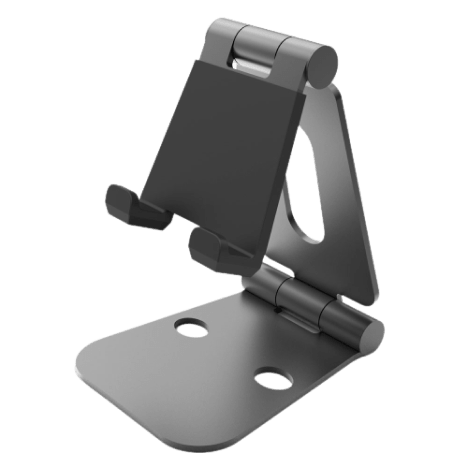 Extremely versatile
We put 2 sturdy hinges in the construction, so the holder is easily adjustable. 360° rotation makes it easy to fold, and put it in your pocket. Devices of the size up to 13'' can fit in it.
Thought-through design
Free from phthalates and bisphenol, the holder is 100% safe. The minimalistic design also makes it look great in any interior. Silicone lining protects the device and prevents it from slipping.
Works well everywhere
This universal holder totally keeps up with its name: you can optimize your working space, enjoy a new level of comfort while using your devices, take it anywhere, decorate your desk, and be confident about the safety of yours and your electronics. Come enjoy the comfort of using your devices like never before.
The stand looks very nice and it has anti-skid pads which is very thoughtful. Can hold a large phone and case. But I gave it 4 stars because it's too heavy for my purse

I ordered these to hold my phone while plugged into the speaker/charger so I can watch youtube videos while I work. I was surprised at how well it holds its position. I can also see my notifications while working at my laptop without having to pick up the phone. I was so happy with the purchase that I ordered another one for my bedside table. And it helds my apple watch now.

I love this stand. I use it for both iPhone and iPad. It's sturdy. Does not lose its adjustment if you place a heavier item on it. It folds and takes up the same amount of space as a cell phone. Definitely worth the price. It's a well made product.

In a world of 'Zoom' I noticed that I got tired of trying to make my phone set up right for a Zoom session. If I face timed my parents, by the end of the call my dad's arm was tired and I didn't see them, I saw the ceiling. This stand is light, folds nicely, and holds a phone or tablet. You can take it on a trip, set it up on your desk or nightstand and the phone cord can go through the holes and charge your phone/tablet if you need to! Love this!

I have now bought 6 of these. They are wonderful for everyday use and for travel. It's nice and sturdy to hold either my phone or tablet. I have given 5 as gifts to family and friends. It's very well made and a lot of practical thought put into the design. I love the non-slip silicone part. I may have used it to watch movies while having a bath.

Definitely worth buying. The phone stand is definitely sturdy and it's got anti-slip pads. The small 'claw' prevents your phone from falling backwards if you accidentally bump into it. It's perfect for streaming on twitch, since the stand will hold your phone upright so you can view chats while using a computer. It functions even better if you use your phone as an alarm clock. You can just look at your phone that's already upright and swipe instead of having to constantly pick it up. If you're a multi-tasker, I highly recommend getting one.

I was looking for a phone or tablet holder because I travel for work and need a way to hold my gadget while reading, doing video calls, and also charging my device. I am really happy with the design of this stand. It can hold my tablet that is in a heavy case and it doesn't fall over. It has a good amount of room for a charger to be plugged in while it is holding the device. It doesn't slip and it's compact enough for traveling.

I can't speak on the durability of this since I've only used it once. It does seem very sturdy and fits my samsung galaxy cell phone with a thick case (one that has a built in credit/cash slot and an added popsocket). That is what I was going for and many similar stands don't have the ability. I like that it folds so I can carry it with me. Just wished I actually carried a purse these days cause I'm gonna need a bag for all my phone accessories soon. Now I ended up using this stand on my nightstand. I have fur babies and they rarely tip it over. I believe this will also hold my 7 and 8 inch tablets pretty well. Great gadget!

This phone stand saved my relationship. My girlfriend was tired of the phone always falling while it was propped against my light stand every time we FaceTimed. It was worse when I needed to charge my phone. It had no chance of staying propped up. And I need to charge my phone all the time (she talks a lot). Eventually I just started having the camera pointed at the ceiling (I do a lot of work while we chat so I can't always hold it to my face). She nearly broke up with me because she couldn't see me. I didn't know what to do until I got this phone stand. It's so easy to charge my phone while it's on the stand. And it's very durable so it doesn't let the phone move or slip off. I'm thrilled

Love this stand! Not only is it pretty to look but the sturdiness of the stand is phenomenal! This is a high quality product for a great price! There are high quality silicone or rubber pads that hold the phone. Those pads plus the weight of the stand are a perfect combo; they keep it from scratching the phone & from accidental slips and slides which would otherwise end up in a minor catastrophe. I needed a heavier stand because I fumble a lot. My poor cellphone goes flying whilst I'm fumbling all over the place to catch it; it usually ends up 8ft away under my bed or under my car seats LOL. Don't have to worry about that anymore! Can take this stand anywhere I go! If I wanted to, I could place it on top of the center console in my car and it would stay put whilst I drove. The phone would stay put too unless I took some fast, sharp turns. I am incredibly happy with this purchase and will be buying more for the family! It's perfect. Highly recommend!
Guaranteed Safe Checkout