Universal Wireless Charger
Regular price $0.00 $11.99
If you order within
Arrives by
A nifty energy source
Charging your devices is simpler than ever
Forget about the endless cords and wires, and complement your desk with this small wireless charger.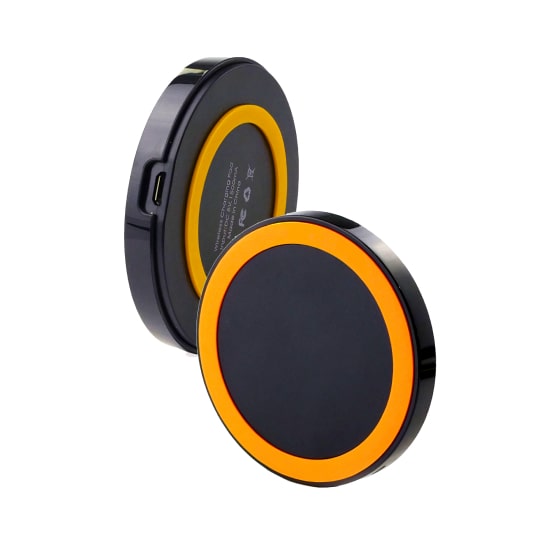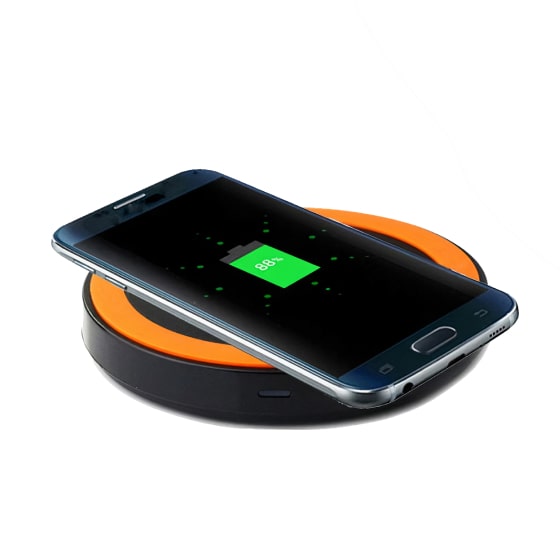 A versatile charger for any phone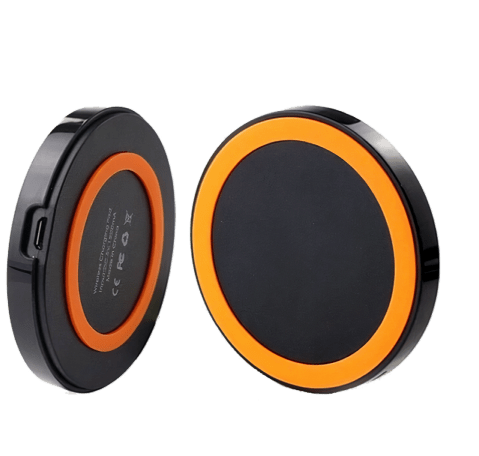 Thoughtful design
This charger is so petite: 2.75 inches wide and super thin - perfect for any desk. The orange rim is supposed to make it stand out and be noticeable. The indicator glows blue when charging is in progress, red when it's not.
Product specifications
Working wattage: 5W Input: 5V/1.5A Output: 5V/1000mAh Working HZ: 110-205kHZ Charging distance: from 0.07 inches to 0.19 inches
Never think about compatibility
With this charger, you can stop worrying about having to carry plenty of different cords and plugs with you. And you can share this charger with a friend, no matter what phones you have, it works well regardless. Just put your phone on top of the charger and let it do its thing, simple as that.
Just as advertised with very fast shipping.

Really great product and you can't beat the price!

Works perfectly with my galaxy S9 and my fiance's S7.

Great product, does what it promises.

Overall, happy with the charger. It works as expected.

I have to take off my phone case every time I charge it but all in all it is very convenient charger

Great product, great value! Very convenient and minimalist design that essentially blends into any area where it's placed.

It came just as we were told; wrapped and obviously new. We've already used it and it works well.

Wish these things could charge multiple items stacked on each other. Also wish my phone could charge the screen down. But I like it anyway

I use the pad to charge my iPhone but have also charged my old Samsung. It works best with any device!!!

Super easy set up. And surprised that several of our devices will charge on this. You don't need to be super careful on how your device is placed on it. Super convenient for bedside.

I got two of those chargers just recently and so far I am super happy with the product. Even with phone covers (rather thick, leather covers) they charge without interruptions, unlike other wireless chargers I've used.

I thought it'd be faster charging but as usual charger at home I'm happy with it

This charger will charge your phone in about an hour, even with it being on %1, which is decent and very convenient. It's compact so it doesn't take up much space. I'm happy with it!

Absolutely love this product! It is so convenient to be able to just set the phone on the end table and let it charge overnight. My boyfriend and I both love it. I bought a second one to use for work And that's where I really see the best in it.

We love our new chargers and it is so easy to just set them on top of the charging pad and let it charge. It charges as fast as any other charger I've had. My wife and I both have an iPhone 8 so we don't need anything in addition to charge them.

Great product. Great price point. My wife and I purchased the 2 pcs so we could each have one on our nightstand next to our bed. The chargers work exactly like it should and we enjoy the design and quality of materials. We are getting new iPhones for 2 kids for Christmas and we're planning on purchasing two more charging pads again!

Great product so far used it for about two days and it's very convenient to use, especially with kids. They always ruin the chargers because they are being pulled constantly but this charger is easy to use and very efficient and kids are amazed that they can set their phones on top and it will charge. I will buy another one and will recommend this product.
Guaranteed Safe Checkout