Vacuum Callus Remover
Regular price $0.00 $18.99
If you order within
Arrives by
Spa-quality grooming
right at home
Experience powerful, safe, mess-free callus removal from wherever you are, without having to step inside a spa. Our Vacuum Callus Remover utilizes a micro-abrasion head that rotates 2000 rpm for high power and maximum comfort for silky-smooth skin feet in one luxurious yet easy-to-use machine.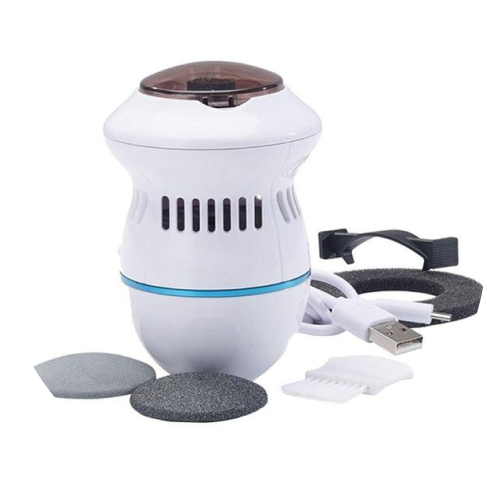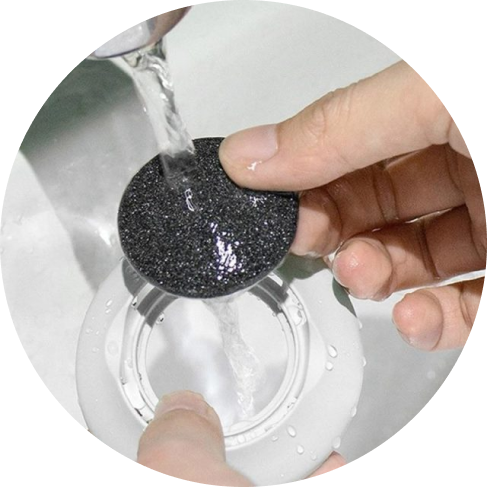 Buff away. Clean up. All at once.
Yeah, that's right. Unlike other devices that propel dead skin into the air, our high-powered vacuum device collects dead skin right into an internal dust chamber that you can detach and dump out.
Rechargeable for convenient use
Powered with an internal battery, this device can be charged over and over, without need to change batteries. Simply plug in any standard USB charging cord to power up (one is included with your purchase).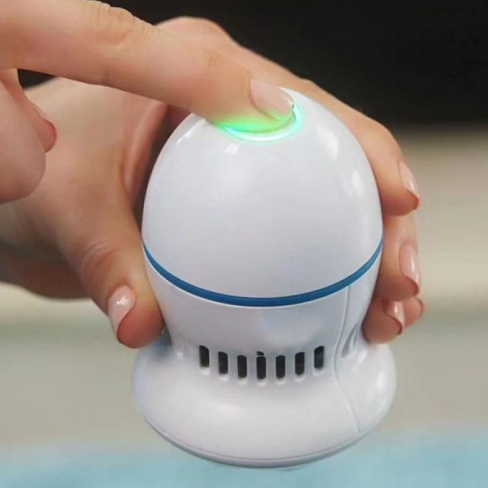 Designed for a safe grip
The ergonomic non-slip handle design of this device ensures safe use, whether your hands are wet or dry. The natural curves of the device body allow you to securely and firmly grip onto the device as its powered on. This ensures your safety while allowing the buffer to make direct contact with your skin for real results.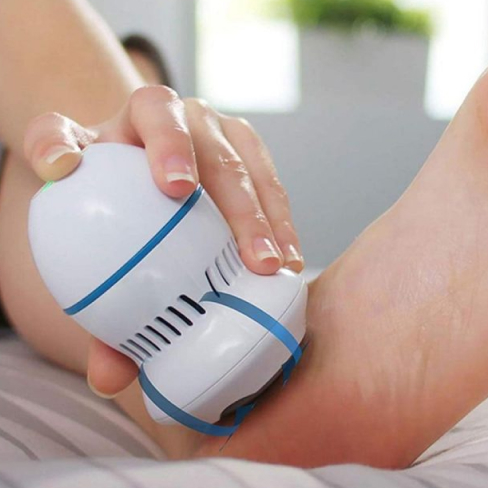 A complete foot-grooming solution
Smoother, silkier feet are attainable without breaking the bank or requiring a salon visit! Our Vacuum Callus Remover helps deliver results from the comfort of home! With your purchase, get everything you need for convenient, long-term use anywhere you need it. Your order includes:
1 x Vacuum Callus Remover
2 x Emery Pads
1 x USB Charging Cable
1 x User Manual
1 x Cleaning Brush
Excellent product and very fast shipping, I will buy more to give away

This product is OK and does what we wanted it to which was to hold a 3rd gen dot on a computer desk. The level of tilt you can get is less the we would have liked (if flat parallel to the table is 0° and facing you perpendicular to the table is 90°, max you can get is somewhere between 30° and 40°). Would have liked a wider range up to maybe 75°). It's easy to adjust and doesn't move about too much due to the rubber feet on the bracket, however it is quite light so can move when trying to adjust it. All in all it's a decent enough product, albeit a little lighter than expected.

I like that it had two speeds and it was very easy to work. The one thing I don't like is that it doesn't stay charged for very long.

Just used and it works brilliantly. Great product.

Very fast and everything is ok

Received in a good condition. Works well.

Loved this and it worked great, but stopped working for no reason after only a few times. I was disappointed because I had finally found one I really liked. My husband even liked it too! Three stars because if it didn't break I would have continued buying more.

I love this vacuum callus remover, it's like you've been to the nail and foot salon. You plug it in the usb port and you can use it then, or you can charge it and it doesn't take long at all.

This product works!! Used as described, my feet remained smooth for almost 2 months without any scrubbing! Highly recommended!

The order fully corresponds to the description. Good packing and fast delivery. Good quality products. I recommend this seller. Thank you very much!!!

All I can say is wow!! My husband used this on his rough feet. They are super callused from his work boots and now they are so smooth!!! He loves it and I'm so glad I don't have to feel those rough feet anymore!!

It does a decent job on like callouses or semi-rough feet. However, it is simply not powerful enough for the tough callouses. It can make your skin very smooth, but you need to prepare the tough callouses with a pumice stone or cut them off before using this. Easy to clean and use. The battery charging is adequate.

I bought this for my wife as she has problems of dry and cracked skin on her heels. She said that the product made her skin smooth and she is very happy! It is esy to use either dry or in the shower. It is a great tool because it is comfrotable to use and it really does the job. SHe is very glad. We recommend this product!

This thing is amazing! I had no idea something like this existed!!! I use it once a week and so does my husband and it has made such a difference! My feet are smooth and existing calluses that have been there for ever are slowly going away too. It's strong so be carful and start out slow.

I had low expectations of this but so far it's been amazing! I was shocked how well worked in just one use! After two uses the hard callouses on the sides of my toes were fine and buttery soft skin was in its place. I totally recommend this product!

Using it dry, it works very well. its powerful. I worked on one foot a day for a week and I have not had to change the roller. Easy to use and no razor blades or sharp implements. It removes dry skin faster, isn't painful, and leaves my feet nice and smooth.

I am not giving this the highest rating because it is very powerful for such a little thing. It has a lot of vibration and I have to hold on tightly to keep control of it. I does what it is advertised to do, but you could hurt yourself quite easily if you don't keep it moving. It's also hard for me to get the angle of my foot just right to use it all over. You have to be quite limber to get all the angles you have to. I would be skeptical of having another person use it on me. I think there are better callous removers than this one.

does not have the grinding power that i thought it would nor does it have the vacuum power that they leed you to believe, but if used long enough , it willeventually grind down the problem. so overall a decent product

I bought this for my husband he always has really dry feet and will not go have them taken care of and he had a different one that was battery operated and it was going through so many batteries so that's why we love this it is rechargeable and so easy to clean and it keeps my floors from being covered in dust from his feet so it's like an all-in-one package and it keeps his feet soft and more pain free

Holds charge for a LONG TIME!! I use it EVERYDAY in the shower and charge it 1 time a week! AWESOME PRODUCT!!

I love how my feet feel.... does a great job..... i had another one that was gosling...my sister tried mines and she also fell in love with it.. so i got it for her.. now she is a happy camper.. her feet too!

You have to hold it lightly, don't press it down on your feet. The whole thing will get away from you. :) Otherwise, I like it so far. It does the job of what it's supposed to do. But you have to use it a while. Maybe i was just too far gone and that's why it took a long time. Smith helps!

Great product for the price. Really works and removes dead skin. No more cracked feet. Even got a second one for a friend.

This product is amazing. So easy to use, works amazingly. I've had many products that are supposed remove callouses, and this one puts all others to shame. You can literally see the dead skin coming off in large amounts (something I've never had before.) It made my feet smooth all day, which is a first for me as it usually takes putting lotion on all day long to keep them smooth. This is money well spent, and I recommend it for anyone with really bad feet.

So far very good it cleans the feet and dead skin nicely. I have been using it for more than 2 months and I love it I have not changed the roller yet it works fine so far. I think it will last for another month it gives very smooth finish when I am done with it.

After a winter in Michigan, my heels looked like I was related to a reptile. This did the job! Recommend you use lightly over the course of several days so your feet aren't tender.

I was a little nervous ordering this product due to the wide range of reviews it got. My fears were unfounded. It is priced appropriately. It works exactly as described. It helped me get rid of horrible dry cracked heels within minutes. I would absolutely purchase this again. The only reason I didn't give it 5 stars is because it is so noisy. It's a small price to pay for the convenience of fixing dry cracked skin on my feet so quickly and completely.

Honestly, everybody loves it in my family when they see me using it and now everyone wants to buy one for themselves because they've seen that it's worked for me! Highly recommended. This thing won't break on you. Eventually you may need to get new replacement things for it so it keeps doing the job right haha. It lasts a lot :D

I just used it for the first time and I absolutely LOVE it.... easy to use and feet after 5 minutes feel amazing! I recommend! Really needed a pedicure but with COVID 19, have to do myself! So glad I found this product!

I have ordered these before and find them to be the best for very hard foot calluses...they do not need to be plugged in, and so I can use it outside when the weather is decent here. I have tried the electric model and found it was hard to hold and limited my area of use. So glad I could find this type of sander again!

I like this product. I'm amazed I found an 'as seen on tv product' that doesn't fail. I've tried an 'egg' type product in the past but that didnt leave the polished finish this product does. It's efficency is comprable to a pumice stone minus the elbow grease and time a pumice stone requires. It is noisy, but I don't mind because it does what I need it to do. It comes with a few replacement heads but I have yet to try to order more. So far I like it. I use it after I shower when my feet are softest. I use a sloughing cream afterwards for more smothness. I saw a difference after my first use, but it is a tool for routine use. If you have really bad feet, this may not be strong ebough. I work in the desert and wear boots all day. It works for me!

It does a good job! Great foot file. Product is as described at a fair price. My feet get really calloused on my heels. This takes care of the problem promptly. I am very pleased with this foot callus remover!

This is a good quality product with nice packaging. It holds charge for a long time. I used this callus remover on my feet one time and it is amazing what this did to my dry rough skin. I will toss out all the manual foot files! I would highly recommend this foot scrubber if you have calloused heels like I have. You will be amazed.

I suffer with really dry skin on my feet and I've tried for many years to find a product that truly works. Be it creams, lotions, scrapers, oils, etc. I was visiting my family and my granddaughter had this electric callus remover. I tried it and immediately realized the difference it made. The first thing I did when I got home a few days later was to order one!

Great product if you have a problem with cracked feet this product is a must !!! You can start noticing the difference with just a couple of uses. Just remember to be patient especially if you have a really cracked feet. I like to do 10 min sessions on each feet everyday just don't overdo it because it can be painful ! You'll love the results!
Guaranteed Safe Checkout