Versatile Mobile And Tablet Holder
Regular price $0.00 $19.99
If you order within
Arrives by
A neat stand for your iPhone, iPad, or Nintendo Switch
Looking for a neat and elegant stand for your device? Our holder is the perfect one for any device mentioned above.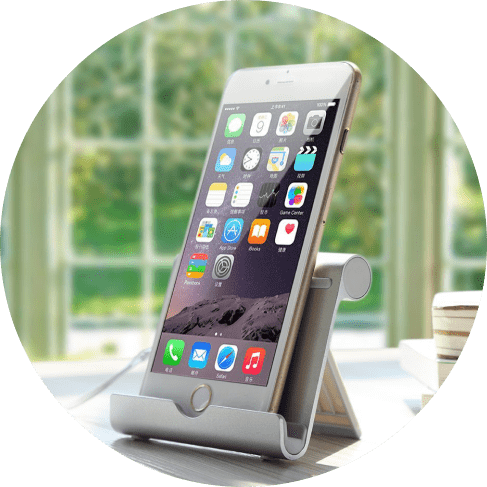 Sleek and functional holder
Why is it unique?
Versatile
The back support of the holder has a 270 degrees rotation, and with a simple touch of a button, you can adjust your holder the way that you want.
Easy to carry
Our holder is not cumbersome at all, and you can enjoy its convenience anywhere you want. The holder is extremely easy to put in any pocket or a bag.
Durable
Use of zinc alloy for this holder production allowed us to provide you with the high quality that you need, but making sure that the item is affordable. The structure of our holder is made to withstand pressure up to 11 lbs.
Thought-out design
Our holder is not only useful and versatile but also very sleek. It will look great in any interior and on any desk. Silicone rubbers on the outside and on the inside will protect your desk from scratches, as well as the device.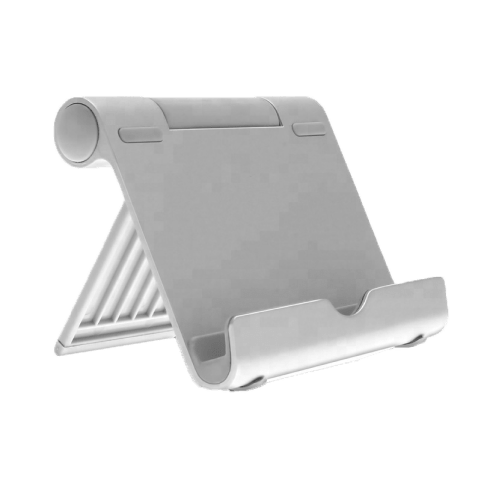 Lean and efficient
You will never want to use your phone as you did before. The thought-through design makes the holder a great addition to any desk and a great feature for any user because of the engineering put behind it.
If you have kids who need to watch videos in a public place such as a restaurant or a hotel, this product is a very good one. Lightweight but strong enough to keep the angle you want. Can handle smartphones or even tablets without any problem.

Great little stand for my phone! Use it every day. Very sturdy and professionally made. The design matches my MAC computers perfectly and it helps make the whole thing look like a complete set. You don't realize how often you need one of these when you are working and using your phone for skype calls, etc.

Works as described. Quite rugged. Would purchase again. One caveat though is you have to press in the end before you flex the stand. Don't force it to open. Just press the button on the side! Would buy it again. Work with my 8" tablet as well as my phone.

My wife wanted a phone stand to watch her soaps at night. This is a very sturdy case and passed the 4 year old test. Totally recommend!

Such a small, insignificant thing but I love it. I use my phone to watch Netflix while I'm on the computer and this thing works well. It feels very sturdy and folds pretty flat with a push button to adjust the angle.

My grand girls always used this to hold their iPad, while talking to their cousins. This is the best ever. I'm going to order more. I'm glad I found this for my grandchildren.

It's a very good solid stand. I would give 5 stars if the base was a little wider because I am using my phone with an otter case and it won't fit inside this stand. It is sitting on top of the stand at the base. Without a case it works perfectly. Skinny TPU case for any phone will work just fine.

These stands are 6 stars. When I opened the package I was surprised at how small they were! But after putting it to use, they are awesome. Sturdy, and balance both the iPad, mini iPad and my wife's iPhone perfectly! My younger son plays his games without knocking over his mini iPad. Price is excellent. I am ordering more. Great gift!!

I love it. It is made of very good materials, and is fully adjustable to multiple positions. It is heavy enough to sit on your chair so you don't have to hold your phone if you're watching YouTube or something like that. One of the best purchases I've ever made, and very well made for the price. Buy it, you will not be sorry.

I use this for my iPhone and iPad mini just about every day, both with their cases on. Easy to adjust and travel with. I have no problem using it to prop up a tablet or phone on my lap while watching movies in bed. It's part of my arsenal when insomnia is rearing its ugly head. Worth the purchase.

I bought these for my kids for Christmas one year and ended up getting a few more. They work very well, sturdy, have multiple angles, and are exceptionally handy to have on a plane or train, or to prop your phone or iPad up when in the tub. I have a pop socket on my phone and it doesn't stand so well vertically, so be careful where your socket is or how you want to orient your device. Still worth the purchase!

Perfect little stand, sturdy but not heavy or bulky. It even folds up pretty small so you could use it for traveling. Holds my Galaxy Tab E horizontal for watching movies and holds my Kindle vertical for reading. I can touch the screen or adjust the volume without feeling like it will topple over, which was the issue with the last stand I'd been using, and you really can't beat the price.

This stand is small but seems sturdy. It holds my Nook with no problem. I've used it on a tabletop and on a pillow on my lap, and it stays secure. It's a little hard to adjust the angle. I need both hands to manipulate it, but other than that, it's been great. If I had the option of 4.5 stars, I'd give it that!

I bought one a few months ago, to see if it would work well with my Note 4. My husband kept borrowing it, so I bought one for him too. He liked it so much that he wanted a second one, which just arrived yesterday. Sturdy construction, so if we end up buying more, it will be if friends notice them and want one too, not because they wore out!

I bought two stands. And now I use them for my large cell phone, tablet at home and even for my Nintendo Switch. Really adjustable and really durable. The adjustable leg holds at almost any angle and it isn't a ratchet joint so you really can hold it steady at whatever angle you want. Can't recommend enough for anyone looking to hold up phones, tablets or even larger screens then that.

To look at this stand, you would think it could only do one thing, hold your tablet or phone. It does more than that, allowing you to put your device in a number of positions and heights. It gives you the freedom to read or watch whatever you want in comfort. This stand would be a perfect gift for anyone in a hospital or nursing home. It will hold your device while you type on a bluetooth keyboard or watch those Christmas videos from family far away. This stand does more than you think.

This purchase was a great addition to my desk setup. It enhances the "wireless" look of my setup, because I have my monitor, wireless keyboard, wireless mouse, sleek desk lamp that has its wires hidden, wireless speakers, and then this stand holding my iPad. Even though I often charge my iPad sitting in the stand horizontally, when it's not charging, my setup looks clean!! I love that this is made mostly out of metal. The rubber padding will keep your phone/tablet from getting scratched, and because it is made of metal, it can hold the heaviest of devices (so long as they are thin enough). This stand is great!

Works great! Easy to use. Works perfectly with my daughter's iPad, any small lightweight device, my iPhone 6 plus, my older iPhone regular size. My husband liked it so much the first time he used it I had to buy another for him. Also serves as a nice holding rack in general if you like to have your phone upright and nearby when you're at a desk or in the chair. Lightweight and compact so good for travel. Makes watching things on your device very easy. It needs you to squeeze the button in order to change shape so it doesn't "slide" once it's positioned. Is also pretty sturdy, it doesn't wiggle or move if you tap a few places on the device while it is in the holder. I'm pretty sold on this nifty and convenient holder. It actually works, it's light and sturdy. Plus, it's nice looking and unobtrusive.
Guaranteed Safe Checkout