Waterproof Bluetooth Speaker
Regular price $0.00 $15.99
If you order within
Arrives by
Please, don't stop the music!
Isn't it annoying when you want to listen to some music in the shower or near the water, but you're scared you're going to ruin your speaker? Don't ever let water get in the way of your fun! With this waterproof speaker, you'll never have to worry about water ruining it. Let yourself fully enjoy the music and forget about being afraid of ruining your device.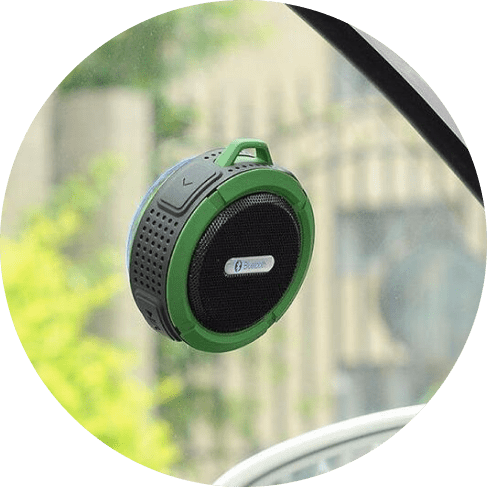 Let's get loud
And forget about anything else
Sound
5W stereo surround sound system will provide you with an amazing listening experience. The speaker can also get as LOUD as you need it!
Waterproof
IPX5 water resistance protects the speaker from any water splashes. Perfect for a shower, rights? But don't put in water!
Compatibility
Bluetooth 4.2 technology makes the speaker compatible with a wide variety of devices (like tablets, phones, etc.) Signal transmission is in the range of 32.80 ft, so you have quite a freedom in moving around. You can also put in a TF card if you want.
Versatility
Never let go of your favorite tunes again! The water resistance and a suction cup give you possibilities for listening to music in the shower, kitchen, beach, poolside, or while boating. You may even take calls and communicate with your buddies. It can fit anywhere, thanks to the size of 3.42x1.77x3.74 inches. A special hole on top of the speaker is great for carabiners.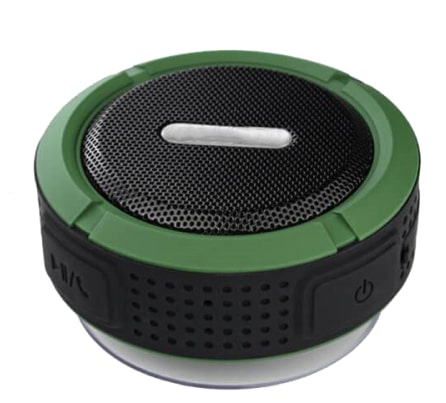 Dive in the audible pleasure
Never deny yourself the pleasure of music. Regardless of where you are, you can take our speaker with you and enjoy the best sound and experience. No more fears of water ruining your device when you least need it. And the fun will last: 6 hours of non-stop usage will fuel any party! And if something happens, you can just plug in the cord and continue!
Bought this for our shower and was not disappointed. The sound quality isn't the best, but much better than having the phone on outside the shower walls. I think having it in an enclosed box may be what's affecting the sound. It's small and sticks well to the wall. It is easy to remove so that it can be charged with a kindle cord charger. It's very easy and straightforward to use.

This is a great little speaker, the unit is sealed up with rubber banding, Paired with my iPhone with no problems, The sound is awesome, I can control the playlist & volume from the speaker, even answer the phone in the shower. The battery life is very long, when it dies, I recharge it overnight, it is ready for another week or so.

I love this little speaker. The sound quality is great. Unlike my previous bluetooth speaker, it actually holds a charge, and the charge seems to last a really long time. I no longer have to keep it on the charger at all times like I did with my previous one.

I've had this same speaker in the past that I broke over a couple years of usage and it worked great. Just needed a replacement and this one works great for its price. Good battery, decent sound and very portable.

This speaker works perfectly. It's not super loud, but loud enough. The Bluetooth distance is decent, I left it in my kitchen and went outside and it stayed connected. Suction cup is large and definitely sticks well.

Been wanting one, but didn't wanna pay the high price for something that I could lose or forget. This thing is relatively loud for what it is and it's cheap!!! If I lose it I'm definitely buying another one.

I don't like the forward/backward button on the side. They are kind of in the way when holding the speaker and I would accidentally forward or go back to a song. Gets annoying.

A********e on Dec 19, 2022

It works really well for such a cheap price, the only thing that's difficult is how close the skip and volume buttons are. And it really is waterproof. The battery lasts forever!

I just received this speaker! It's loud and I love it! I'm unsure if I want it for my shower or work. It's sturdy and cute. I would buy it again!

This is pretty great for what I need it for. Sound quality is really good for a little speaker. Great size too. I definitely recommend it.

The sound is clear and loud enough to hear through the apartment and on the back porch. Just wish the battery would last longer.

The only downside (and this is silly) is that the noise when it turns on is pretty shrill and scares the crap out of my cats.

Works decent but the charge doesn't hold for long while in use. I wanted this for outdoors while chilling by the fire.

I love this speaker. I take it everywhere even to the shower, it's a great speaker! Easy to use and charges fast.

So far so good! Initially it works fine and easily connects with our family's phones. Sound is pretty good!

This waterproof bluetooth speaker is perfect for the shower or outside by the pool.

Would recommend it. It is a pretty decent shower speaker for its price.

For the price this speaker does all I need it to do. Would order again.

It's a good working speaker but it's not that loud at all.

N*******l on Oct 22, 2022

This cute little speaker is awesome!! Sounds great.

The sound quality is great! It's small but loud

I wish the sound quality was better.

Best little waterproof circle ever...
Guaranteed Safe Checkout