Wireless LED Bluetooth Speaker
Regular price $0.00 $30.99
If you order within
Arrives by
A must-have for a music lover
Are you tired of boring and tacky speakers? Some look good but work bad, some work nice but look so-so? This is a happy medium. Fun and cool design, great working efficiency, amazing sound - a perfect gadget for someone who can't live without music. Check this one out!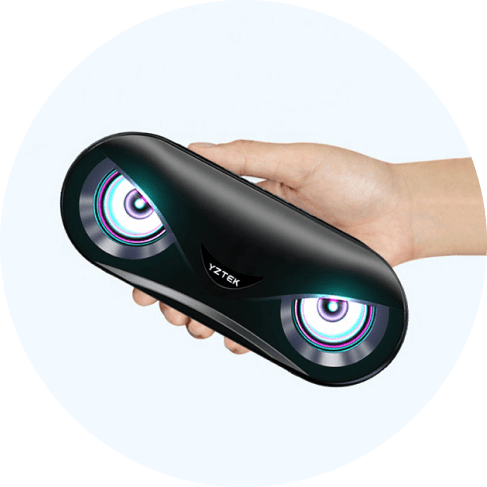 The life of the party
You'll never want to listen to music any other way
Battery
This guy is a tough one! The 3600mAh battery provides you with 8-10 hours of playing time when you need only 3 hours to charge it fully.
Colorful lights
Set a particular atmosphere, bring more fun to your party, or just watch those colorful lights. You and everyone else around will be left hypnotized and mesmerized by them. No one will go home unimpressed, trust us!
Great sound
We can't forget to mention the sound quality of this speaker. 2 5W speakers with the help of a heavy bass diaphragm allow the sound to be clearer and bring you an enjoyable experience. It can get as LOUD as you want, that's for sure.
Versatility
It works perfectly with Bluetooth 5.0 so you can connect your speaker to a variety of devices. A transmission range of up to 32 ft gives you freedom in moving around. The speaker also works with TF cards, USB flash drive, or AUX cord.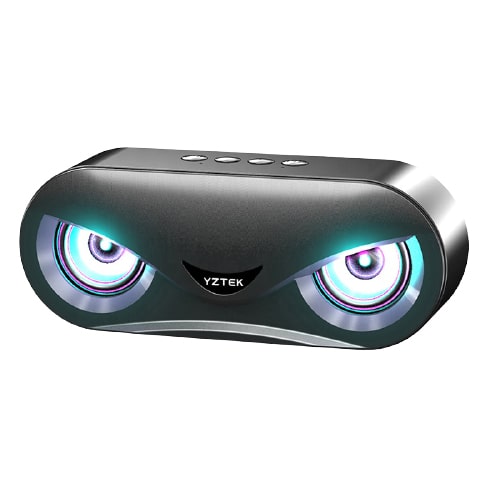 Unique experience
You won't find an offering like this on the market. This speaker is the best of the best. Combination of everything valued by the users: reliability, great design, affordability, high-quality sound, compatibility, and engineering will provide you with a great user experience. It's an amazing gift for you or anyone else! Have fun like none other!
This bluetooth speaker is absolutely awesome and will allow you to have a concert in your own home. It connects easily to most bluetooth devices, in a matter of seconds. It will stay paired up to 32 feet, it's really nice that you don't have to stay close to it. Judging by the coating, the speaker is very durable. It's compact and doesn't take up a lot of room. This is a well built and overall, a great speaker. You will not be disappointed, it sounds great!

C*******e on Jul 22, 2022

On hearing the speaker when it arrived, I was quite blown away by the quality of the sound, so I bought a second one and as they both join together when activated the sound was even better and filled my garage up with sound, for such a small speaker the build quality is excellent!

The speaker feels solid and well made and hopefully therefore will last a good length of time. It is a good size to easily handle, and has strong enough volume for either indoor or outdoor use. I tested it with a variety of music genres, all sounded really good!

It's shocking how good it sounds. Connects easily! For speakers of this size, the sound is really good, and increasing the volume will not distort the sound. The price is totally worth it.

I'm literally very happy with the material and sound qualities which are impeccable!! Bluetooth range is also very nice as it connects in more than 5 meters.

It's much smaller and quieter than expected. I happen to own a smaller speaker that is much louder so I'm mostly dissatisfied with the sound quality.

I couldn't get it loud enough while working outdoors. It's great if you're in a room or nearby. But I work outdoors and need something louder.

I'm very happy with this speaker, it's compact and lightweight enough to take with you on the go but big enough to give good sound.

Very easy to set up and use. Excellent sound quality. Love the flashing lights too. Beyond happy with this purchase!

The volume, bass and sound quality are surprisingly good for such an inexpensive and relatively small speaker.

Wow!! That's all I can say for the sound quality, the loudness is fantastic the bass is unreal for this small box

I love the design, it's neat, has a strong and nice sound, fancy lights, could not be happier, thanks.

The sound is great, the quality is greaе and the setup took literally seconds!

Lightweight, well made and amazing sound quality!!
Guaranteed Safe Checkout