Cooling Laptop Stand
Regular price $0.00 $25.99
If you order within
Arrives by
Cool as it can be
Usually, the ventilation systems that laptops have aren't so good. They get dusty, and even if you clean them, the heavy programs or games still make them heat up like crazy. That's when the cooling stands turn out to be useful.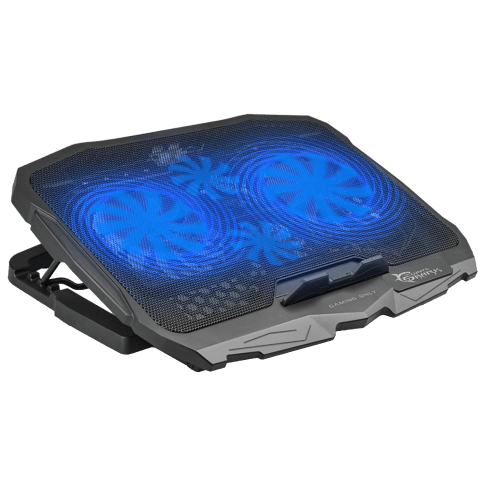 More productivity, less stress
Hot issue – cold remedy
Inspiration from bees
Bees know about proper ventilation better than anyone. This stand has a combed texture which provides the BEST heat dissipation. 4 fans cool every part of the laptop.
4 different adjustments
Find the best one! The stand has 4 variants of angle adjustments, so you can find the most comfortable position there is.
Easy to clean
Take the net part off, and clean the fans however you want. Brush them or vacuum them, or remove dust by hand. So simple!
Produced with responsibility
FCC, CE, and RoHS certificates of this device show that it's not only safe for the users but also the environment.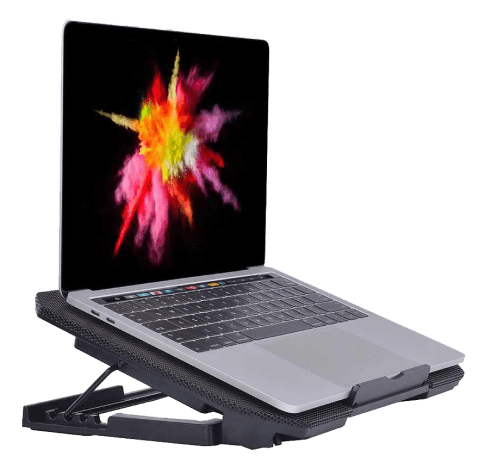 Be ready for new achievements
No slowness because the hot laptop can sabotage you anymore. Have your device always ready for new tasks and long working hours. Protect it from overheating and paying wild bills from the computer service companies. A VERY cool gadget.
I received this a day ago in which time I have put around 6-10 hour of use on it. My laptop was designed to be fan-less so being in an upstairs room it tends to get hot and that means I normally have to take breaks but not with this cooling pad. I had this cooling pad on full power for up to 4 hours straight while doing everyday things like browsing on Google Chrome, watching videos on YouTube, and talking to friends on Skype. This would have normally left my laptop hot to the touch but when I was done my laptop was actually cooler to the touch, a noticeable improvement to it staying cooler and thus being able to run longer and not worry as much about overheating.

First off it is fairly quiet for what it does, making no more than a low hum which disappears when any kind of audio is playing at normal/reasonable volumes. Secondly it has withstood an 8 hour gaming session and still managed to keep my laptop cooler than it would have been by itself and continued to keep it cool for an additional 2-3 hours of chatting with friends over multiple internet chat rooms, the cooling fans were on max and never heard even when using voice chat with friends.

Was about to throw away my old laptop, as the battery was heating up badly, and it was turning off. My heart was breaking, though, so I decided to try this cooling pad first. I can say I have a "new" laptop. No overheating issues since then. Saved me both the money and the heart.

I am extremely pleased with this product. It is very convenient to use, short cord that hooks from my laptop to the cooler, perfect size & it starts up as soon as my computer turns on. I don't even really know it's there. It is working great.

Love it! I work 40 hours a week on my very expensive laptop and want to protect it from the damage that battery heat can cause so I purchased this, and it's perfect! So quiet you won't even know it's on.

So far, I'm impressed. All six fans are quiet, and it works excellently. As soon as I turn it on, it immediately cools my overheating laptop down.

The stand is relatively quiet and I love the fact that you can adjust the height. It works pretty well but I'm not fully satisfied with the build quality.

Those quiet fans keep my machine cool as a cucumber. I would definitely buy it again. Great performance and great value.

It's running great. Good airflow, adjustable rack for angles. Everything works fine. Even the blue LED is a nice dark tone.

I love the fact that it's capable of keeping your device cool while in use however, it is not compatible with the MacAir.

So far this has been the best laptop fan I've had, it's super quiet and keeps my laptop nice and cool.

I loved this cooler with one exception: the elevation prop is flimsy and difficult to adjust.

It really is whisper-quiet, while doing an excellent job of keeping the laptop cool.

These fans are powerful, and help my laptop stay cool much longer.

Very nice lightweight fan for a laptop, well worth the money!

It would help to have non slip coating where laptop sits

This is my pick for gaming laptop cooling on a budget!

it is the best investment I made for playing games..

Excellent product at a good price.
Guaranteed Safe Checkout